Subject: 30% Off Subscriptions to Today's Dietitian
www.TodaysDietitian.com | View this email in a browser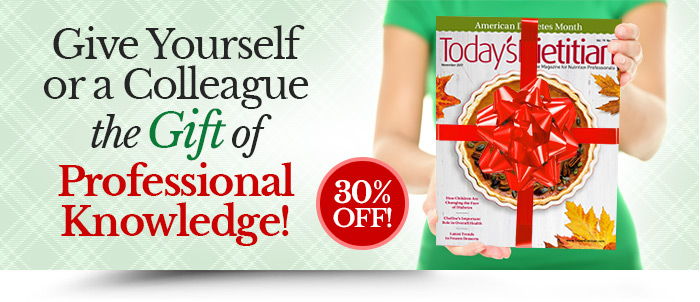 Treat yourself or take care of a fellow professional with
30% OFF any gift subscription or renewal to Today's Dietitian!

Less expensive than a gift basket, and the knowledge lasts forever!

A subscription will benefit you and/or your colleague with features, news, and product information only a leading trade publication can deliver.

Save 30%

between now and December 31, on a thoughtful gift for your office Secret Santa, to help provide professional insight for a junior member of your team, or to renew a subscription you know a fellow professional has.

Or just get the gift of professional knowledge for yourself and enjoy!


*Offer available to US subscribers only.
For print subscriptions in Canada or outside the US, please email or call for pricing.
Email: subscriptions@gvpub.com | Customer Service: 800-278-4400