Subject: April 25 webinar on baby-led weaning

View this email in a browser | Update your email preferences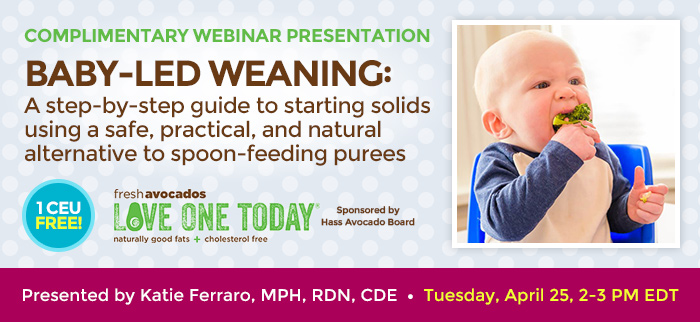 Was the last thing you learned about feeding a baby from your Lifecycle Nutrition class? Well, it's time to bone up on your baby-feeding know-how! There's an exciting and credible body of emerging evidence and practice that supports a baby-led approach to infant feeding...and dietitians NEED to know about this!

Baby-led weaning is an alternative to spoon-feeding whereby babies feed themselves real, wholesome foods from the get-go. Baby-led weaning helps babies become children that like and accept all types of food. It can help prevent picky eating and may even lead to lower rates of childhood overweight and obesity.

In this presentation, Katie Ferraro, MPH, RDN, CDE, mom of 5 and self-proclaimed baby-led feeding fanatic is going to run you through everything you need to know about this safe and natural alternative to spoon-feeding. You'll learn about the baby-led approach to feeding philosophy and we'll cover ideal starter foods and tips for pushing a baby's palate. By the end of this webinar, you will be more confident about your ability to incorporate baby-led weaning either in your own family or your nutrition practice.



Learning Objectives


After completing this continuing education course, nutrition professionals should be able to:
Understand the baby-led weaning philosophy and interpret research that supports a baby-led approach to feeding.
Recommend ideal first foods for starting baby-led weaning and combination foods for more advanced babies.
Implement a baby-led approach to feeding in your own family or a nutrition counseling setting.
1 CEU
Suggested CDR Learning Needs Codes: 3050, 4150, 5070
Performance Indicators: 8.1.4, 8.2.1, 8.3.6
Level: 2
About Our Presenter


Katie Ferraro, MPH, RDN, CDE, is the founder of The Fortified Family (www.fortifiedfam.com), an online nutrition consulting business that specializes in infant and child feeding. As a mom of 5, she is a self-proclaimed baby-led weaning fanatic and a firm believer that good food fuels strong families. Katie is an Assistant Clinical Professor of Nutrition at the University of California San Francisco and the University of San Diego. She brings her real-life feeding experiences along with the hundreds of families she has counseled and a strong background in nutrition education and research to shape her unique perspective on baby-led weaning.



Disclosures


Katie Ferraro reports the following relevant disclosure: she serves as a consultant to the California Avocado Commission. She has certified that no conflict of interest exists for this program. View our disclosure policy.
About Our Sponsor


Babies experience many firsts, and first solid foods are an important milestone in early development. When helping your clients identify the most appropriate first foods for their babies, tell them to mix and mash up avocados. The avocado's smooth, creamy consistency makes it one of the first fresh fruits a baby can enjoy. Introducing nutrient-dense, delicious fruits, such as fresh avocados, to children in their earliest months of life goes a long way towards ensuring they continue to eat well throughout adulthood. To learn more about the goodness of avocados for tiny tummies visit LoveOneToday.com/avocados-babies