Subject: August Triple Play CE Special
View this email in a browser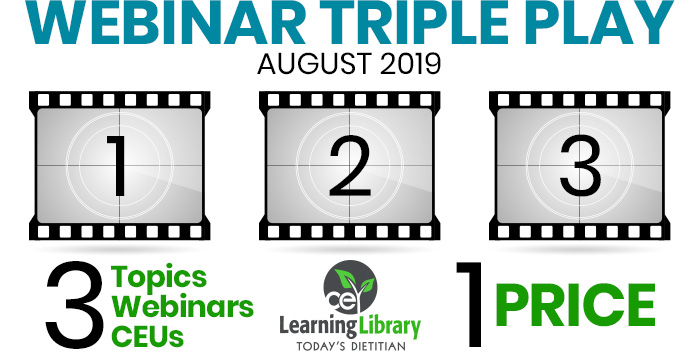 Now through Wednesday, July 31,


get all 3 of our August webinars for just $50!
That's a savings of $10!
Visit CE.TodaysDietitian.com/webinars and place the 3 webinars below in your cart.
Use coupon code

TRIPLEPLAY

at checkout to get the package price.
*You must select all three webinars to receive the Triple Play discount.
The discount will be applied to the already-reduced webinar rate for CE Club members.
Offer cannot be combined and will expire July 31, 2019, at 11:59 pm EDT.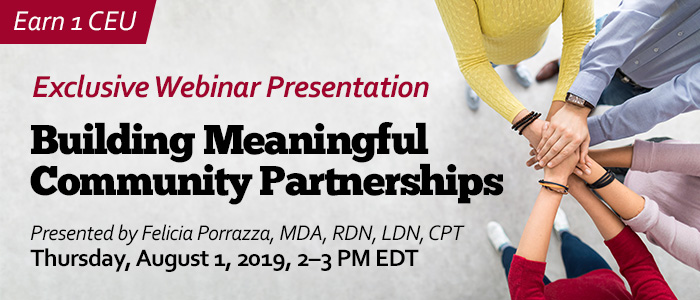 In this webinar, Felicia Porrazza, MDA, RDN LDN, CPT, will provide attendees with an overview of how to build successful community partnerships for wellness implementation. Felicia will discuss the current research on the integration of employee wellness initiatives and how to keep participants engaged throughout the process. She will also discuss key characteristics to look for and implement when identifying a potential partner, including alignment with your business's mission, making the first connection with a partner, and specific marketing strategies, tools, and tips for creating a successful wellness program.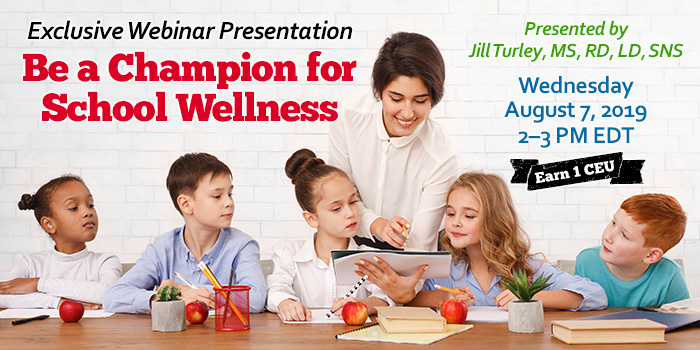 Join Jill Turley, MS, RD, LD, SNS, as she takes a deep dive into school wellness. In this interactive webinar, Jill will cover what school wellness encompasses and how you can be a champion for school health in both the educational community and your community at large. Learn about what comprehensive school wellness looks like, how federally-required nutrition standards and local wellness policies impact school wellness programming, the nutrition specifics of building a quality, consistent and exciting school wellness program, and how RDs from all disciplines can support school wellness.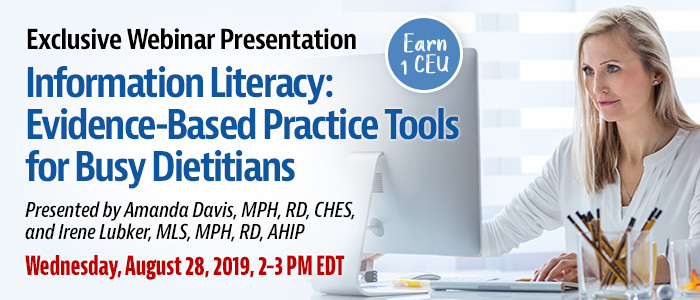 The evidence-based practice (EBP) process is integral to critical thinking and decision making for nutrition professionals. In this interactive webinar, Amanda Davis, MPH, RD, CHES, and Irene Lubker, MLS, MPH, RD, AHIP, help bridge the gap between research and practice for busy RDNs. They will introduce the five A's of EBP; describe how to create a search strategy using the PICO format; introduce free and low-cost resources for searching the evidence; use the 6S Model Evidence Pyramid to prioritize pre-appraised sources of nutrition research; and apply guideline recommendations and pre-appraised evidence to client interactions. Increase your competence and confidence using evidence-based research to drive your dietetics and nutrition practice.