Subject: EARN 1.0 CEU FREE Webinar: Low, sustained, and slow: A smart strategy for choosing carbohydrates
VIEW IN BROWSER
Thank you for your continued support of Today's Dietitian. Below is information from one of our sponsors.
EARN 1.0 CEU FREE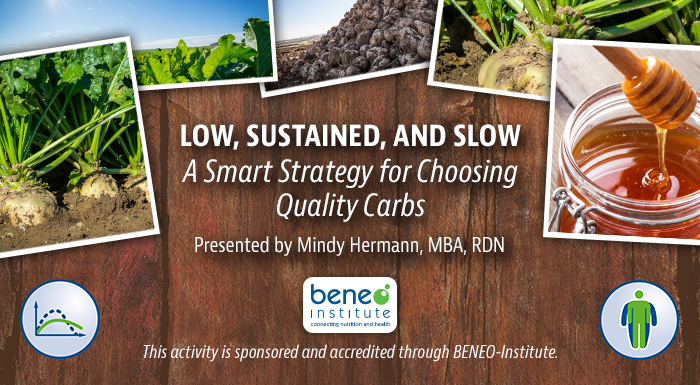 If you missed the live session, you can still access the recording:






Featuring a downloadable Q&A


During the live webinar we received hundreds of questions so we summarized your top 12 questions in this document!


The world of dietary carbohydrates has broadened in recent years as manufacturers introduce new carbohydrate ingredients with more nuanced functional properties than their traditional counterparts. These new ingredients differ in blood glucose response, insulin secretion, digestibility, fermentability and ultimately, physiological response and potential health outcomes. Some provide the classic 4 kcal/g and others provide fewer or no calories.

Isomaltulose (Palatinose™) is one of these newer carbohydrates. It is a disaccharide naturally found in honey that resembles sucrose molecularly but is more slowly absorbed. This confers numerous metabolic benefits that are not seen with sucrose consumption, including lowered blood glucose response, sustained energy and higher fat oxidation- making Palatinose™ an attractive alternative to sucrose in certain product categories.

Is it possible today to identify quality carbohydrates by simply reading a nutrition label? Should unique carbohydrate ingredients such as isomaltulose be considered as sugars on the label, or do their metabolic benefits support a different type of classification? This presentation will offer guidance to dietitians who are helping consumers better understand sugars and carbohydrates on the label and in the ingredient list.



For more information:

Learning Objectives

By the end of this presentation, attendees will:
| | |
| --- | --- |
| 1. | Gain awareness of newer carbohydrates and understand how they fit into the spectrum of carbohydrate types. |
| 2. | Be able to compare the general molecular structure of different types of carbohydrates and explain how structure affects digestion and absorption. |
| 3. | Describe the positive and negative metabolic impact among different types of carbohydrates, including isomaltulose. |
| 4. | Recognize the complexities of educating consumers on added sugars on the label, in light of the unique features of newer carbohydrates. |