Subject: Feb. 7 Webinar on GMOs

View this email in a browser | Update your email preferences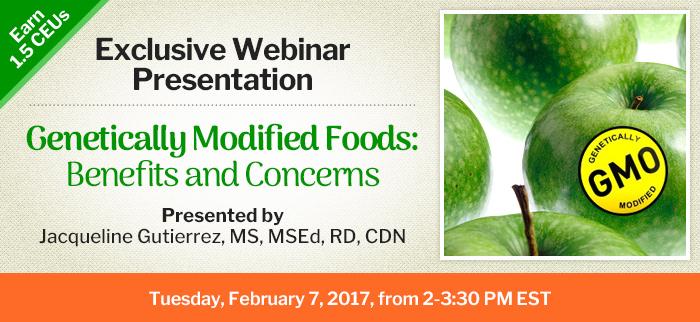 Media coverage of the GMO debate can be confusing to the public. Increasingly, patients and clients are seeking guidance from RDs about the pros and cons of GMOs in foods. In order to provide sound advice, RDs need to have an understanding of GMOs, their role in the food system, and the state of the research relating to GMOs.

This timely webinar is aimed at RDs who want to help their clients make informed decisions. In the session, Jacqueline Gutierrez, MS, MSEd, RD, CDN, will present both sides of the GMO debate. The science behind genetically modifying cells will be discussed in detail. The presenter will also take a deep dive into the benefits of GMOs reported by biotechnology scientists, as well as the concerns that surround GMOs.



Learning Objectives


After completing this continuing education course, nutrition professionals should be able to:
Define genetically modified organisms (GMOs) and provide at least four examples of foods or food ingredients that have been genetically modified.
Summarize the history and science behind GMOs.
Identify at least six reported benefits of GMOs.
Identify at least six risks associated with GMOs.
Discuss how patent regulations impact research and farming practices.
Describe the current U.S. political climate in relation to GMOs.
Advise clients who express interest in avoiding or limiting genetically modified foods in their diets.
Price: $19.99
CEUs: 1.5
Suggested CDR Learning Needs Codes: 1080, 2000, 2040, 8018
Performance Indicators: 8.1.2, 8.3.7, 11.2.1, 11.2.6
Level: 2
About Our Presenter


Jacqueline S. Gutierrez, MS, MSEd, RD, CDN, is a Registered Dietitian and a Certified Dietitian-Nutritionist with over twenty years of experience helping people to improve their health through better nutrition. She is a New York-based freelance writer, Editorial Director at Sprouting Seed Press, and an adjunct instructor who teaches culinary and nutrition classes.

Ms. Gutierrez is currently a Research Reviewer for the Nutrition Education for the Public practice group of AND, an Assistant Website Coordinator for the Long Island Children's Writers and Illustrators, and was the Website Coordinator for the Long Island Dietetic Association for three years.
Disclosures


Jacqueline S. Gutierrez, MS, MSEd, RD, CDN, has no relevant disclosures to report regarding this program. She has certified that no conflict of interest exists for this program. View our disclosure policy.