Subject: Feb. 8 Webinar on Diabetes Guidelines
View this email in a browser | Update your information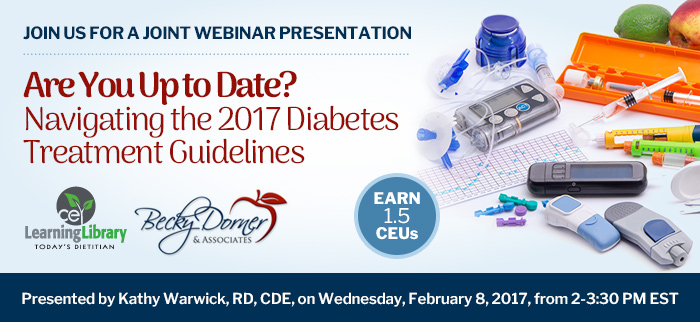 The world of diabetes is expanding exponentially. Over 29 million adults in the US have diabetes and another staggering 86 million have prediabetes. The body of knowledge about this very complicated disease is also growing at warp speed. RDNs are charged with practicing evidence-based medical nutrition therapy and it is imperative that they stay current with the most up-to-date guidelines.

The annually-produced American Diabetes Association Standards of Medical Care in Diabetes provides the benchmark guidelines of care for patients and clients living with diabetes. Join Kathy Warwick, RD, CDE, for this timely and comprehensive overview of the 2017 Standards of Medical Care in Diabetes and learn about developing opportunities for RDNs in diabetes care.



Learning Objectives


After completing this continuing education course, nutrition professionals should be able to:
Discuss the key revisions in the 2017 Standards of Medical Care in Diabetes.
Describe the current nutrition care guidelines for adults with diabetes throughout the continuum of care.
Identify opportunities for diabetes self-management education during the course of diabetes treatment.
Explain the roles and opportunities for RDNs in Diabetes Prevention Programs.
Price: $29.99
CEUs: 1.5
Suggested CDR Learning Needs Codes: 4040, 4120, 5190, 7170
Performance Indicators: 8.1.4, 8.1.5, 8.2.5, 8.3.6
Level: 2
Registration will take place on the Becky Dorner & Associates website.
Purchase any of the following Becky Dorner & Associates manuals and receive a complimentary enrollment in the webinar:
Diet and Nutrition Care Manual, The Complete Guide to Nutrition Care for Pressure Ulcer Prevention and Treatment, or The Obesity Challenge.
About Our Presenter


Kathy Warwick is a Registered Dietitian and Certified Diabetes Educator with 34 years of experience in several areas of dietetics practice. She is owner of Professional Nutrition Consultants, LLC in Madison, Mississippi, providing outpatient diabetes education, long term care consultation, hospice consultation, wellness program services, media communications and medical-legal consultation. She has served as an expert witness in numerous nursing home and malpractice lawsuits dealing with issues of malnutrition, weight loss, wound healing and diabetes care.

Previous work experience includes home health, outpatient education, hospital nutrition support, public health, nursing home consultation, and teaching college level nutrition classes for nursing majors. Kathy speaks regularly to medical and professional groups on the subjects of diabetes, various wellness topics, and the role of nutrition in litigation. She was a speaker for FNCE® 2014 and 2015 and has presented multiple webinars.

Kathy is the Editor of newsFLASH for the Diabetes Care and Education DPG of the Academy of Nutrition and Dietetics. She is Past-President of the Mississippi Academy of Nutrition and Dietetics and currently serves as Media Spokesperson for MsAND. Kathy is also a member of the Coordinating Body for the Mississippi Association of Diabetes Educators focusing on advocacy and licensure for diabetes educators in Mississippi.
Disclosures


Kathy Warwick reports the following relevant disclosures: She serves on the advisory board of the Southeastern United Dairy Industry Association. She has certified that no conflict of interest exists for this program. View our disclosure policy.