Subject: International Sustainability Study Tour For Dietitians

View this email in a browser | Update your email preferences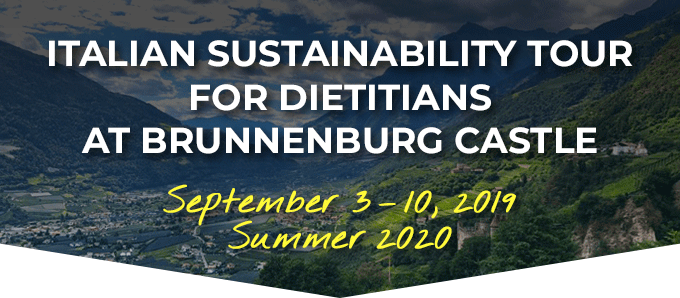 Join Philip Ackerman Leist, the Dean of the School of the New American Farmstead at Sterling College and Sharon Palmer, Nutrition Editor of Today's Dietitian for an international study tour designed for a select group of dietitians to learn about the sustainable food systems in the South Tirol region of the Italian Alps.

Participants will be based at Brunnenburg Castle & Agricultural Museum in the village of Dorf Tirol. In addition to housing a museum dedicated to the mountain farmers and their foodways, Burnnenburg Castle also features an organically-managed working farm that utilizes innovative, sustainable methods of agriculture that align with the preservation of the cultural and nutritional heritage of the unique South Tirol region of the Italian Alps. Learn firsthand about the region's food history, ancient and modern farming practices, and recent culinary innovations at this 13th century castle and farm.

Participants will experience work on the farm during the grape harvest and wine-making season, prepare foods in the rustic teaching kitchen, sample local fare prepared by expert chefs, and meet with local farmers, entrepreneurs, and artisans in the region. The trip also includes a majestic hiking day in the Dolomites and two days in the special town of Mals in the Upper Vinschgau Valley, where the group will visit with members of an unlikely band of activists who led what became an internationally-acclaimed movement to protect their food heritage.

For insights and images from the July 2019 study tour, check out Sterling College's Brunnenburg Castle Study Tours Facebook page here.
Fall 2019 Study Tour: September 3–10, 2019
Spots for the Fall 2019 Study Tour are very limited, so enroll quickly.
Summer 2020: Tour dates to be released soon.