Subject: Invitation to Join the Kellogg Wellbeing Collective!
VIEW IN BROWSER
Thank you for your continued support of Today's Dietitian. Below is information from one of our sponsors: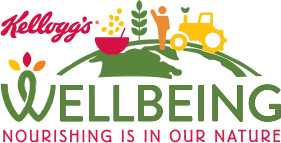 Invitation to Join the Kellogg Wellbeing Collective!
Greetings from the Kellogg's Wellbeing team! We're writing to invite you to join our new Wellbeing Collective, a source for valuable food and nutrition news, information and professional resources sent straight to your inbox.

Please read on to learn about our new Wellbeing Principles and the many benefits of joining the Wellbeing Collective. We hope you'll sign up below!



Kellogg's Wellbeing Principles — What We're All About


Kellogg Company is a place where innovation lives on, where we never stop learning and where we're excited about tomorrow. It started simply with a single corn flake and W.K. Kellogg's belief in better food for all.

W.K. Kellogg was the original wellbeing visionary and the Kellogg Company is a leading plant-based wellbeing company. We recently set out to define what wellbeing means in the 21st century to our company, customers, and consumers. We are redefining nourishment beyond traditional nutrition to a  holistic definition of wellbeing that covers physical, emotional and societal interconnections, all of which are driven by our portfolio of plant-based foods. Our goal is to make delicious foods that are better for you and better for the world we live in.


Physical Wellbeing: Enabling positive eating patterns with a focus on diverse plant-based foods that provide the nutrients we need to strengthen physical health.
Societal Wellbeing: Feeding more people by addressing food insecurity brought on by growing population, climate vulnerability and malnutrition. Plant-based foods are critical to food security, while ensuring we support sustainable production and access to nutritious foods.
Emotional Wellbeing: Helping people form important connections with family and friends during occasions that often involve food. When we eat, we interact with friends and families and food is often at the epicenter of those gatherings.
We are committed to:
Continuing to listen and to demonstrate our wellbeing commitment through innovation and renovation by offering more of what consumers want and less of what they don't.
Implementing changes to our packaging strategy so that we meet our goal of working towards 100% reusable, recyclable or compostable packaging by the end of 2025.
Addressing food security by supporting smallholder farmers and sustainable agricultural practices throughout our supply chain and embedding these practices with our partners.
Addressing food poverty and food waste through our breakfast club and food donation programs worldwide, which have supported 1.2 million children over the last 2 years.
Creating foods that bring enjoyment. We recognize the value of positive social interactions from sharing enjoyable food experiences.
Get the Benefits — Join the Collective Now!


As a Wellbeing Collective member, you'll receive sneak peeks into new foods, brand campaigns, K-12 foods, continuing education opportunities, consumer insights, new research findings, recipes and more!


Connect with Us on Twitter!



Follow us @KelloggsRDs for food news, new research findings, continuing education opportunities, and more! And stay tuned for an exciting website redesign next year!