Subject: Last Chance for Today's Free Webinar on Sustainable Diets

View this email in a browser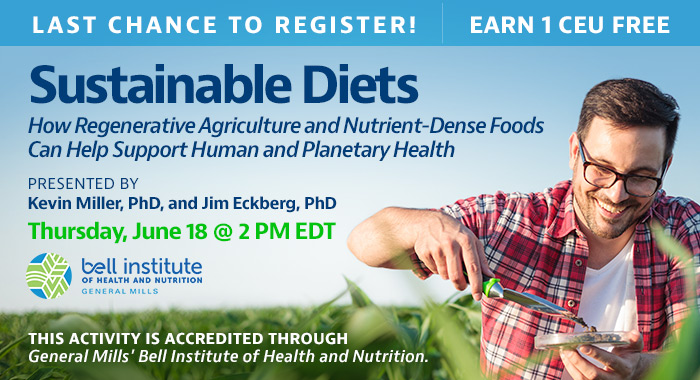 This presentation will provide an overview of the intersection of nutrient-dense foods and sustainability. We'll cover how General Mills is using regenerative agriculture practices to grow nutrient-dense food like oats and dairy more sustainably. We'll also cover what role packaged foods play in a sustainable diet and how dietitians can better educate their patients, clients and followers on this important topic.



Learning Objectives



| | |
| --- | --- |
| 1. | Participants will gain knowledge in regenerative agriculture practices. |
| 2. | Participants will better understand the concept of nutrient-density and what it means to grow nutrient-dense foods from sustainable food systems. |
| 3. | Participants will better appreciate the role packaged foods play in a sustainable diet and how dietitians can better educate their patients, clients and followers on this important topic. |
1 CEU FREE
Suggested CDR Learning Needs Codes: 2070, 8018, 4070, 4110
Suggested Performance Indicators: 8.1.1, 8.3.5, 12.1.1, 12.3.5
Level: 2
About Our Presenters


Kevin Miller, PhD, is a Principal Scientist in the General Mills' Bell Institute of Health and Nutrition. In his current position, Kevin is responsible for ensuring that General Mills' products comply with existing government and corporate nutrition regulations and provides guidance to key company stakeholders. Kevin focuses on nutrition and regulatory topics including sustainable diets, whole grain, carbohydrates, fiber, protein, and fortification. Previously, Kevin worked as a scientist in healthcare nutrition field studying nutrition interventions for improved health outcomes. In both current and former roles, Kevin has maintained his passion for helping to build healthy dietary lifestyles that can improve overall public health.

Jim Eckberg, PhD, is an Agronomist at General Mills working on sustainability of agricultural systems including oats and dairy. In his current role, Jim engages the farm community in regenerative agriculture practices that improve farm profitability, soil health, biodiversity, and reduce greenhouse gas emissions. He works with food scientists, regulatory experts, and business teams to rethink and reimagine products that source ingredients which are both healthy for agroecosystems and diets. Jim completed a MS in ecology from the University of Nebraska-Lincoln, and a PhD in agroecology from the University of Minnesota.
About The Sponsor


At the Bell Institute of Health and Nutrition, our mission is to be the source of scientific health and nutrition expertise that creates value and growth for General Mills. We believe food should make us better, so we work hard to make food the world loves, while improving the nutrition of our products. www.bellinstitute.com



Disclosures


Kevin Miller, PhD, and Jim Eckberg, PhD, are General Mills employees.