Subject: Last Chance to Participate in Today's Webinar on the Power of Blueberries!

View this email in a browser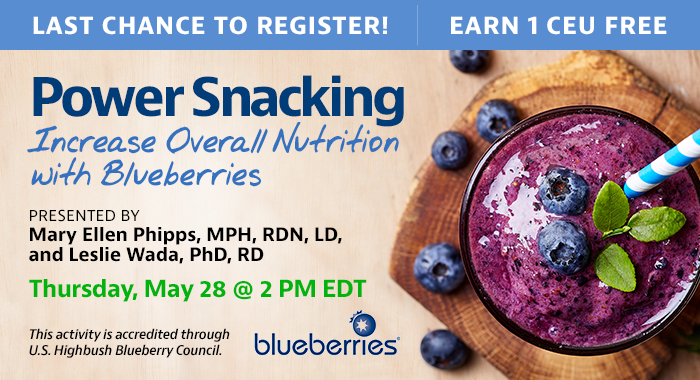 Because of the difficulty involved in defining "snacks" and "snacking," there is discrepancy in the literature about whether snacking prevalence has increased or remained static and whether snacking contributes to energy imbalance and weight gain or facilitates weight maintenance and a lower BMI.

On Thursday, May 28, 2020, at 2 PM EDT, join Mary Ellen Phipps, MPH, RDN, LD, and Leslie Wada, PhD, RD, for a presentation that will focus on the latest research demonstrating how snacking, along with incorporating blueberries supports proper health and will provide participants with strategies, resources, and tools for promoting simply delicious, naturally nutritious eating plans.



Learning Objectives



| | |
| --- | --- |
| 1. | Develop an understanding for the latest data related to the increase in trends of snacking in the United States |
| 2. | Understand current and emerging health research related to blueberries and certain health conditions |
| 3. | Provide recommendations on blueberry consumption for clients and/or patients |
| 4. | Apply the latest trends in snacking to incorporate blueberries into menus and eating plans |
1 CEU FREE
Suggested CDR Learning Needs Codes: 2020, 4040, 8090
Suggested Performance Indicators: 2.1.8, 6.2.3, 8.3.6, 8.4.2
Level: 2
About Our Presenters


Mary Ellen Phipps, MPH, RDN, LD, is the founder and registered dietitian behind Milk and Honey Nutrition. Mary Ellen has been living with type 1 diabetes since she was five years old, and she knows firsthand the impact food has on how we think, feel, act and move. She strives to make food easy and fun again for people with type 1 diabetes and other autoimmune conditions; and uses both her professional expertise and personal experience to reduce stress and fear around food, and help people find joy in the kitchen again.

Mary Ellen is also a contributing writer, recipe developer and content expert for several leading health and wellness organizations. And you can find her frequently on local Houston-area TV stations educating audiences on food, nutrition, and joyful eating.

Leslie Wada, PhD, RD, has worked with the U.S. Highbush Blueberry Council (USHBC) for the past 14 years as the Research Administrator for the Health Research Committee. She has an undergraduate degree in nutrition and dietetics from UC Davis, a PhD in human nutrition from UC Berkeley and is also a registered dietitian.

Prior to working with the USHBC, she taught nutrition and dietetic classes at UC Berkeley, worked in a startup company that developed nutraceutical ingredients and currently consults for companies in the food and agriculture industry.
About The Sponsor


The U.S. Highbush Blueberry Council is an agriculture promotion group made up of blueberry growers, marketers and importers in North and South America, who work together to research, innovate and promote the fruits of their labors as well as the growth and well-being of the entire blueberry industry. The blueberry industry is committed to providing blueberries that are grown, harvested, packed and shipped in clean, safe environments. www.blueberrycouncil.org



Disclosures


Mary Ellen Phipps is a paid spokesperson for the U.S. Highbush Blueberry Council. Leslie Wada is the Research Administrator for the Health Research Committee of the U.S. Highbush Blueberry Council.