Subject: Meeting the authors of The Flavor Matrix on Sunday
View email in a browser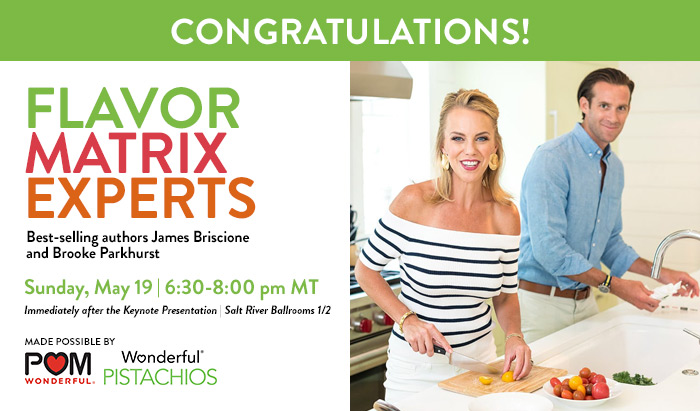 Dear Attendee:

Congratulations! You've been selected to meet the best-selling authors of The Flavor Matrix: celebrity chef James Briscione and co-author Brooke Parkhurst, for an exclusive reception, tasting and book signing event at the Today's Dietitian Spring Symposium on Sunday, May 19, 2019, from 6:30–8:00 pm MT at the Talking Stick Resort, Salt River Ballrooms 1 & 2.

With delightful tastings featuring POM Wonderful 100% Pomegranate Juice and Wonderful Pistachios, you'll:
Learn the secrets and the science behind how the flavor matrix works
Enjoy light hors d'oeuvres and cocktails
Receive a complimentary copy of The Flavor Matrix (available on a first-come first-served basis, while supplies last)
Meet the authors in person, onsite for book signing
Today's Dietitian customer support is available to answer any questions Monday through Friday from 9 am to 5 pm EDT at 877-925-CELL (2355).

We look forward to seeing you in Scottsdale and know you will enjoy this excellent, exclusive Wonderful experience!