Subject: REMINDER: FREE WEBINAR – Confidently Nourishing Children: What's the Deal with Dairy?
View in browser
Thank you for your continued support of Today's Dietitian. Below is information from one of our sponsors.

This activity is hosted and approved for continuing education by National Dairy Council.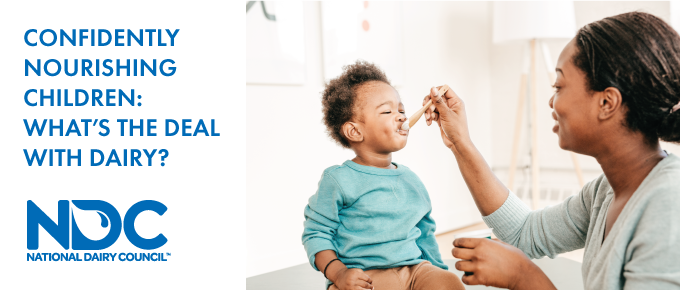 For the first time, the 2020 Dietary Guidelines Advisory Committee's Scientific Report includes dairy foods in its inaugural recommendations for expectant moms and children from 6 to 24 months, as well as recommendations for children two years and older. This is a critical window of time to support optimal health and set the foundation for healthy eating patterns to help people thrive across the lifespan.

Nearly all parents agree that eating habits during childhood will have a lifelong impact on their child's health; however, only one-third are confident that they are doing a good job shaping their child's eating habits. Join board-certified pediatrician, past-president of National Medical Association, Winston Price, MD, FAAP, FACPE, and founder of Cleverful Living, Holley Grainger, MS, RD, as they discuss key questions they receive from parents about their babies, toddlers and teens.

Date: Thursday, December 10
Time: 12:00 — 1:00 PM CDT

Speaker

Winston Price, MD, FAAP, FACPE
Board-certified pediatrician, past NMA president
Speaker

Holley Grainger, MS, RD
Mom, Founder of Cleverful Living, NDC Ambassador
Moderator

Sally Cummins, MS, RDN, LDN
Vice President, Sustainable Nutrition Affairs, National Dairy Council
Continuing Education Credits Have Been Approved For:
1.0 CPEU per the Commission on Dietetic Registration (CDR)
0.1 CEU or 1 contact hour per the National Strength and Conditioning Association (NSCA)
1.0 CEC per the American College of Sports Medicine (ACSM)
Continuing Education Credits Are Pending For:
1.0 CME credit has been filed with the American Academy of Family Physicians (AAFP)