Subject: Spring Symposium Attendee Insider
View this email in a browser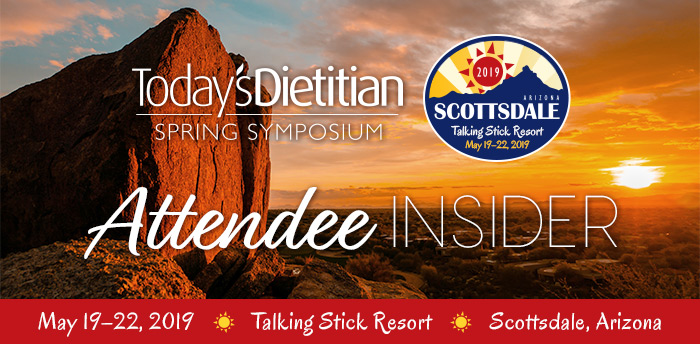 JUST 15 DAYS TO GO!
Information, reminders, and suggestions for our Spring Symposium attendees!
THE MOST IMPORTANT MEAL OF THE DAY!


Breakfast at the Symposium on Monday and Tuesday will be a buffet, including vegetarian/vegan‑friendly options.

We'll also feature presentations to feed your mind as well as provide fuel for a full day of sessions and networking. Here are the rooms and presentations for each day.


Monday, May 20 | 7:45 AM




Pistachios. It's Crunch Time for This Health Nut!


Presented by Mike Roussell, PhD

Sponsored by American Pistachio Growers

LOCATION: SALT RIVER 6/7/8
Tuesday, May 21 | 7:45 AM


Nuts and Cardiometabolic Health:
What We Know and What We Need to Know
Presented by Dr. Jordi Salas-Salvadó

LOCATION: SALT RIVER 6/7/8
Wednesday, May 22 | 7:45 AM




Pro-Grain in a Grain-Free World: Why Grains Still Matter


Presented by Julie Miller Jones, PhD, CNS, CFS, Fellow of AACCI, ICC and IFT, Distinguished Scholar and Professor Emerita, Foods and Nutrition, St. Catherine University, St. Paul, MN

Sponsored by General Mills Bell Institute of Health and Nutrition

LOCATION: SALT RIVER 6/7/8
OPENING SESSIONS & KEYNOTE PRESENTATION




Sunday, May 19 | 1:00 PM & 5:30 PM


Be sure to arrive in time to check in and attend the first sessions beginning at 1:00 PM on Sunday, May 19, followed by the Keynote Presentation, presented by BENEO, at 5:30 – 6:30 PM.

When you're a dietitian AND a former competitive athlete who now coaches young endurance athletes, you have an unique perspective on what it takes to fuel an active and athletic lifestyle.

Moderated by dietitian Dr. Christine Rosenbloom, our lively, dynamic Keynote Presentation will feature speaker Namrita Kumar Brooke, PhD, RDN, who will share her experiences as a competitive athlete, coach, and nutrition professional. The discussion will include strategies and tips to use in practice to help active adults understand the value of evidence-based nutrition plans and sound coaching.
TUESDAY AM FITNESS CLASS




Tuesday, May 21 | 6:30 AM


Lifeway Foods is proud to sponsor a TruFlow class led by TruFusion gym instructor Dana Strang.

TruFlow is a flow-based yoga class designed for all levels and inspired by the TruFusion Signature Series. Be prepared to leave feeling revitalized and more confident in your physical and spiritual abilities.

Take home a free yoga mat and goodie bag — and be sure to snag an 8 oz to-go bottle of Lifeway Kefir for a perfect recovery drink after the workout. It's a nutrient-rich drink packed with protein, vitamins and minerals to support not just muscle recovery, but also gut health. One 8‑ounces serving contains 12 live and active probiotic cultures to give your body the fuel and microbiome support it needs for peak performance.
EVENT SCHEDULE & PRESENTERS


Our full event schedule is posted on the event website at TodaysDietitian.com/ss19. It includes all the sessions and presenters, so start crafting your own Symposium schedule by selecting which sessions and events you would like to attend.
SOCIAL MEDIA




#TDinAZ

Please start using our 2019 Symposium hashtag

#TDinAZ

in your posts and tweets leading up to the event.

Our hashtags have trended #1 on Twitter in New Orleans and Austin the past two years, so we're asking you to keep that streak alive and let everyone know what a great time you're having in Scottsdale!

Also, please tag Today's Dietitian on all of your Facebook and Instagram posts over the course of the conference!
EXHIBIT HALL


One of the true highlights of the Symposium, our high-energy Exhibit Hall will once again feature a diverse and engaged group of exhibitors for you to visit, as well as sample products.

Exhibit Hall Hours:
Monday, May 20: 5:15 – 7:30 PM (Includes Opening Reception)
Tuesday, May 21: 12:45 – 2:45 PM (Includes Lunch)
Thanks to our 2019 sponsors for their support of continuing education in nutrition and dietetics