Subject: Symposium Scholarship Deadline is Midnight
View this email in a browser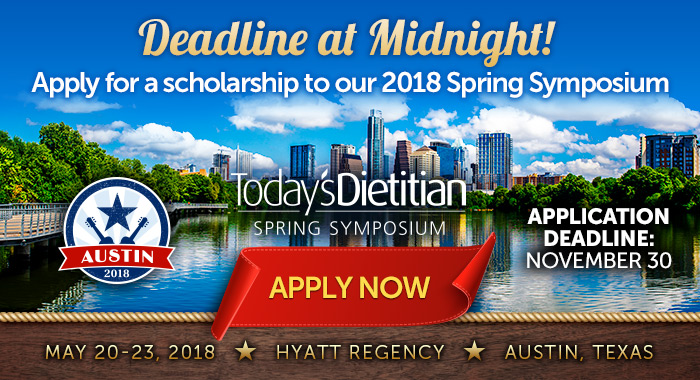 Valued at up to $499, the 2018 Today's Dietitian Spring Symposium scholarship covers all registration costs* for the event including educational sessions led by respected experts, CEUs, and on-site opportunities to network with presenters and peers at the Hyatt Regency in Austin, Texas.

Our first-class presenters will deliver sessions and workshops ranging from Cancer, GMOs, Sports Nutrition, Lab Assessment, Digestive Diseases, Food Sensitivities & Allergies, Gut Microbiome, Culinary, Branding, Intuitive Eating, Mindfulness, and more.

Applicants will be considered on a first come, first served basis, so be sure to apply at your earliest convenience for your best chance of acceptance!



Application deadline is TONIGHT AT MIDNIGHT.

Recipients will be notified the first week in December.

Visit

TodaysDietitian.com/ss18

to apply and check back for more information coming soon!





*Scholarships do not include travel or accommodations. Recipients must book a non-refundable one-night stay (or two-night stay if sharing a room) at the Hyatt Regency in order to secure their scholarship.