Subject: 4-18 Webinar: Food Truths from Farm to Table

View this email in a browser | Update your email preferences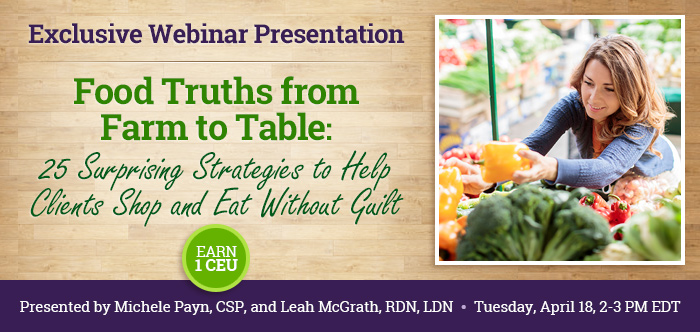 Two-thirds of the U.S. population lives in cities, with many of these individuals never having visited a farm where their food is produced. Consumers are concerned about animal welfare, GMO, sustainability, antibiotics, pesticides, and hormones in food, but often lack the background in food production to understand how to make healthful food choices.

Food and farming expert Michele Payn's work stems from Food Truths from Farm to Table, an evidence-based book that addresses food myths across nine sections of the grocery store. In this thought provoking and practical webinar, Michele teams up with Leah McGrath, RDN, LDN, to provide strategies that dietitians can use to assist clients in avoiding confusion in the grocery store. Michele will take you behind the scenes of today's agriculture in the U.S. and Canada to unveil why food is raised the way it is and to bring clarity and common sense to the food conversation. Together, Michele and Leah will provide you with guidance to assist clients in making food decisions based on their own social, ethical, environmental and health standards.

This webinar will provide dietitians with food truths and leave them feeling poised to empower others to simplify their shopping, eating and cooking.



Learning Objectives


After completing this continuing education course, nutrition professionals should be able to:
Provide science-based recommendations by evaluating content and context claims about modern farming practices.
Discuss commonalities of people who grow food and how they do it—across the spectrum of scale, from CSA to farmer's market to larger family businesses.
Educate their peers and consumers on measuring all food claims against their own ethical, health, environmental and social standards to avoid food shaming.
Help food buyers reduce time and guilt in the grocery store.
Price: $19.99
CEUs: 1
Learning Needs Codes: 2040, 7050, 7120, 8018
Performance Indicators: 8.1.2, 8.3.6, 11.2.2, 12.4.5
Level: 2
*Upon purchase of Michele Payn's book, Food Truths from Farm to Table, PLUS the 8 CEU examination, we'll send you confirmation that you're registered for this webinar.
About Our Presenters



Michele Payn, CSP, speaks from the intersection of farm and food to bring clarity and common sense to the grocery store. Known as one of North America's leading advocates, she is passionate about getting back to the truth in food—raised the right way, by the right people, for the right reasons. She is the author of #1 new release on Amazon, Food Truths from Farm to Table: 25 Surprising Ways to Shop & Eat Without Guilt, as well as No More Food Fights! Michele is an in-demand media resource whose work has appeared in USA Today, Food Insight, Food & Nutrition Magazine, Grist and others, as well as on NPR and CNN. Michele has helped thousands of people around the world translate farm to food and holds the Certified Speaking Professional designation awarded to less than ten percent of speakers internationally. Michele connects conversations between the food and farm communities at CauseMatters.com and socially through @mpaynspeaker, as the founder of both #FoodChat & #AgChat on Twitter. She resides with her daughter on a small farm in central Indiana, where they enjoy breeding Registered Holsteins, cheering on the MSU Spartans, and arguing about science while cooking.

Leah McGrath, RDN, LDN, has been the Corporate Supermarket Dietitian for Ingles Markets based near Asheville, NC for the past 17 years. She connects with consumers through writing for regional publications and her blog, TV appearances, a weekly radio show, presentations and store tours. Her background includes working in Public Health as a WIC and Nutrition Director and serving in the U.S. Army as an officer and dietitian.
Disclosures


Michele Payn, CSP, reports the following relevant disclosure: She has received an honorarium to appear as a speaker to select groups and organizations—view list here. Leah McGrath, RDN, LDN, has no relevant disclosures to report. Both presenters have certified that no conflict of interest exists for this program. View our disclosure policy.