Subject: 6-6 webinar on motivational interviewing
View this email in a browser | Update your email preferences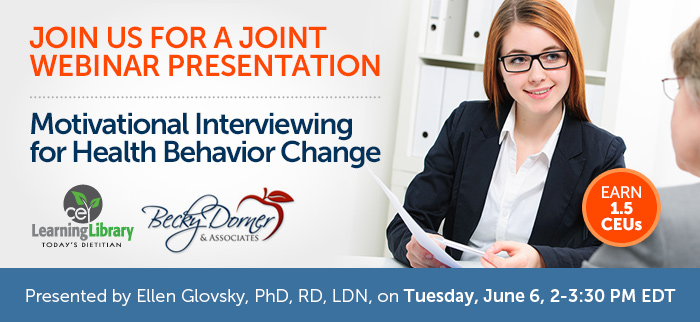 Motivational Interviewing is a directive, person-centered, guiding style for counseling clients to help them to make their own decisions about changing health behavior. This webinar will present the basics of MI, including the listening skills and ways of responding to clients to help them decide if, when and how they will change.



Learning Objectives


After successfully completing the program, participants will be able to:
Define motivational interviewing.
Design a collaborative working relationship with the patient.
Utilize the basic listening skills and effective responses in a conversation with a client.
CEUs: 1.5
Price: $34.95


(Or $27.50 with free BDA membership)



Suggested CDR Learning Needs Codes: 1000, 6010, 6020, 6070
Performance Indicators: 9.1.3, 9.6.1, 9.6.4, 9.6.6
Level: 2
Registration will take place on the Becky Dorner & Associates website.
Purchase the Inspiring & Supporting Behavior Change Hard Copy Manual
and receive this webinar for FREE (11.5 credits total!)
About Our Presenter



Ellen Glovsky, PhD, RD, LDN, is a member of the teaching faculty of Northeastern University in Boston, MA. Dr. Glovsky conducts workshops and consultations for a variety of organizations around the country on Motivational Interviewing. She is a member of the Motivational Interviewing Network of Trainers (MINT), the international professional group of MI practitioners and trainers. Dr. Glovsky maintains a private practice in which she offers treatment for eating disorders and chronic weight management issues.
Disclosures


Ellen Glovsky, PhD, RD, LDN, has no relevant disclosures to report. She has certified that no conflict of interest exists for this program. View our disclosure policy.