Subject: Allergy-friendly Resources from Hilary's + Free Sample Offer!
Trouble viewing? Click here.
Thank you for your continued support of Today's Dietitian. Below is information from one of our sponsors: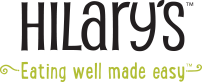 Hilary's creates convenient and culinary foods that are made from real ingredients that are free-from common-allergens. Our products include frozen
veggie burgers
, frozen
veggie bites
, frozen
veggie sausage
, and shelf-stable
salad dressings
. They are all easy to prepare at home, and are undeniably delicious.
All products are certified organic, non-GMO verified and free-from gluten, dairy, eggs, soy, nuts and corn.
It's eating well made easy!
Find healthy recipes on our
website
with helpful filters such as diet preferences.
Copyright © 2017 Hilary's, All rights reserved.
www.HilarysEatWell.com
Hilary's, 2205 Haskell Ave, Lawrence, KS 66044