Subject: Barley+ and the benefits of prebiotic fiber
Trouble viewing this email? Click here.
Thank you for your continued support of Today's Dietitian. Below is information from one of our sponsors.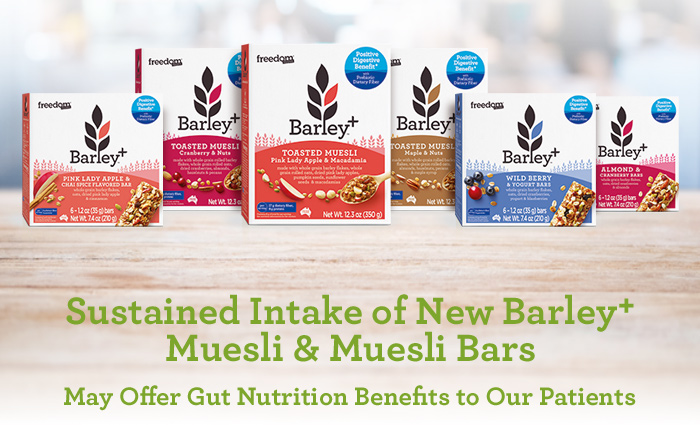 Go to barleyplus.com.au/us/health-care-practitioners
to visit the Barley+ Health Care Practitioner Website

The new Barley+ Muesli and Muesli Bar range launched at Today's Dietitian Spring Symposium by leading health food company Freedom Foods, will be available at Kroger supermarkets from mid-July. Kroger Supermarkets is the first in the world to make available the Barley+ range to consumers across, store locations >

Barley+ contains the unique, non-genetically engineered Australian whole grain BARLEYmax™ as its key ingredient. The secret behind the Barley+ whole grain is its unusually high levels of dietary fiber, all together in the one barley grain: these include resistant starch-like fiber (for its prebiotic activity), soluble fibers (incl. beta-glucan in high amounts) and insoluble fiber (cellulose, lignin) compared with other conventionally consumed whole grains (Figure 1). The first two play particularly important roles as prebiotics (i.e. fermentable fibers) and it is these that often fall seriously short in our diets, especially resistant starch.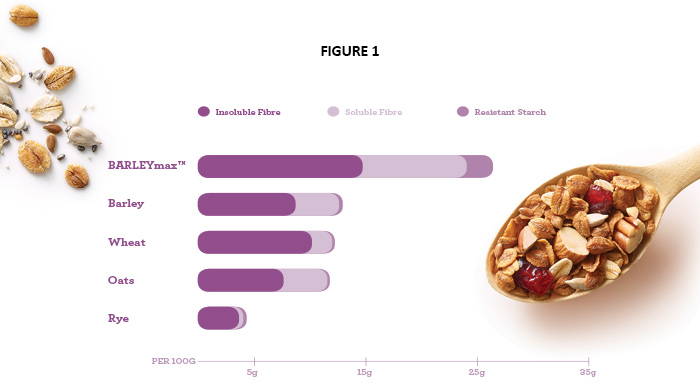 Reference: The BARLEYmax Better Nutrition Report 2009. BARLEYmax Joint Venture representing CSIRO and Australian Capital Ventures Ltd.



Australia's leading public Dietitian and Nutritionist, Dr Joanna McMillan and Nutrition Advisor to Barley+ describes the importance of eating whole grains. She says, "The evidence from nutrition science research highlights that eating more whole grains reduces our risk of chronic diseases like type 2 diabetes and heart disease, and even helps us to control our weight. Refined grains do not deliver these benefits and may even increase our risk. One of the main reasons for this is that whole grains are one of our key food sources of several types of fiber, but especially prebiotics.

Unfortunately, Americans are falling short on their intake of whole grains. Only 7 percent of Americans eat the recommended amount of whole grains, which is to consume 3 ounce-equivalents per day of whole grains for a 2,000-calorie diet — but the more the better!"

To help American Registered Dietitians and Nutritionists educate their patients and clients on the importance of whole grain food intake, resistant starch and other important dietary fibers, Barley+ has launched its Healthcare Professional website at barleyplus.com.au/us/health-care-practitioners. We hope that you find this resource useful: we direct your attention specifically to the results of the Barley+ 28-Day Reboot Nutrition and Lifestyle study, which showed that sustained consumption of Barley+ Muesli and Muesli Bars resulted in significant reductions in mean body weight and body mass index, triceps skinfolds, tricep girth and feelings of anger (all p<0.05).