Subject: Binge watch the seasons 4 CEUs
View this email in a browser | Update your email preferences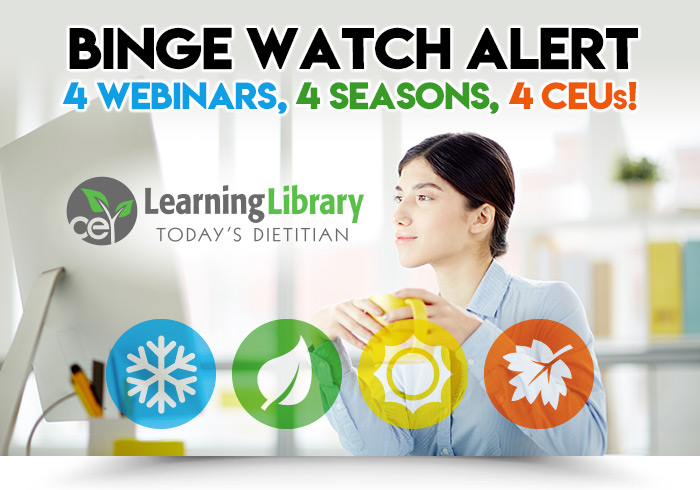 ENJOY ALL 4 PARTS OF OUR SEASONAL
WEBINAR SERIES FOR ONE PRICE!


In this 4-part recorded webinar series, Shayna Komar, RD, LD, and Chef Nancy Waldeck will provide you with recipes, tips, and ideas on how to use seasonal produce with the right herbs and spices. Listen and learn why great chefs and dietitians alike go to the garden to spice up their clients' kitchen! Earn 1 CEU per part!

Register for all 4 parts below at a discounted rate of $60 by adding all 4 webinars to your shopping cart and applying coupon code

SEASONSMIX

at checkout! Please note: this discount applies only to non-CE Club Members.
Part 1: Winter Wonderland
Winter is a time to seek comfort with cruciferous and root vegetables and hardy greens. Winter Wonderland highlights: Cabbage, Brussels Sprouts, Carrots, Collards, Sweet Potatoes and Spinach
Part 2: Spring Fling
With the arrival of spring, local produce starts to make its return to market. Spring Fling highlights: Arugula, Asparagus, Beets, Bok Choy, Lettuces and Radishes
Part 3: Summer Sizzle
Summer's harvest is full of herbs, vegetables, melons, squash and peppers. The abundance of local produce makes summer an exciting time in the kitchen. Summer Sizzle highlights: Basil, Beans, Melons, Corn, Cucumbers, Squash, Peppers
Part 4: Fall Fiesta
Autumn is a time for apples and is also the time of year when the last of the summer produce rolls into the market. With an eye toward the upcoming holidays, it's time to make best use of the end of the year's bounty. Fall Fiesta highlights: Apples, Pears, Kale, Mushrooms, Winter Squash and Pumpkin