Subject: Celebrate National Blueberry Month!
VIEW IN BROWSER
Thank you for your continued support of Today's Dietitian. Below is information from one of our sponsors.
July is National Blueberry Month

Beyond their tangy sweetness and the fact, you can pop them into your mouth one by one or incorporate them into many recipes, blueberries offer a wealth of health benefits — not just in July, but all year long! Share these tips and recipes with your clients and patients to encourage healthy eating habits and show blueberries can be the go-to everyday snack.
Snack smart.


No-Bake Blueberry Cereal Bars are a tasty on-the-go snack with simple ingredients. And bonus, they're a good source of fiber and rich in protein!

Find balance.


Support your clients in their food adventures and suggest ways of incorporating easy, smart choices — like this Blueberry Turmeric Smoothie.

Enjoy simple treats.


These velvety soft and refreshing Blueberry Creamsicles will take your dessert game to the next level and are simple enough to make for even the most novice chef.
Share It!
We know how simple it is to reap the health benefits of blueberries, but do your clients and patients? It is the perfect time to share the message. Copy, paste and tweet or post!
#DYK Vitamin C is an antioxidant that helps to protect cells from damage caused by free radicals? One serving of #blueberries (a handful, or a cup) provides 15% of the daily recommended amount of vitamin C! @blueberry411 #RDchat
Celebrate #NationalBlueberryMonth! #Blueberries pack big flavor & are a good source of fiber and vitamin C, yet small enough to fit into every routine. @blueberry411 #RDchat
One serving (a handful or a cup) of #blueberries contains only 80 calories and naturally occurring sugars, and contribute essential nutrients, including vitamin C and fiber @blueberry411 #RDchat
Celebrate #NationalBlueberryMonth with @blueberry411 & these Blueberry Creamsicles! Make sure to include blueberries in your shopping cart with your other produce must-haves to throw these delicious bites together for the whole fam https://bit.ly/2Y0B8ft #RDchat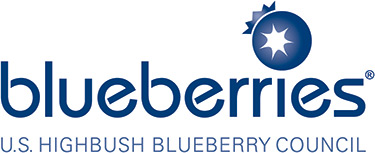 Connect with us!






U.S. Highbush Blueberry Council
1847 Iron Point Road, Suite 100 Folsom, CA 95630