Subject: Come Visit Premier Protein at FNCE® at Booth 1637!
View this email in a browser
Thank you for your continued support of Today's Dietitian. Below is information from one of our sponsors.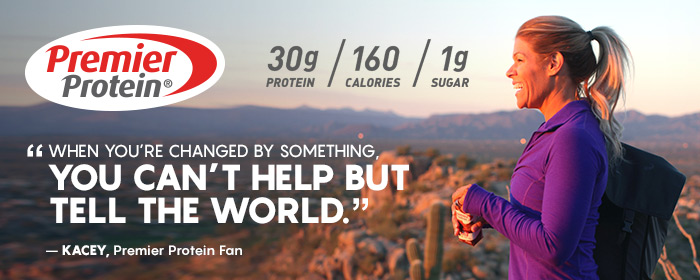 Come Visit Premier Protein at FNCE® at Booth 1637!
To those of you attending FNCE® in Chicago, don't forget to visit Premier Protein at Booth 1637. There you'll have a chance to sample our full product line, learn more about our brand, and how our products can fit within your patients' nutrition needs. While you're there, be sure to try our CLEAR™ Protein Drinks, which will be featured in FNCE®'s New Product Spotlight.

Premier Protein is also sponsoring a briefing in the Expo Hall Learning Center on Monday October 23rd at 2:00. Join Dr. Abbie Smith-Ryan for a discussion on the provision of ready-to-drink protein beverages and compliance and efficacy post-bariatric surgery.

At Premier Protein, we believe that everyone should live a healthy, active life and nutrition is the cornerstone of that life. However, we know that eating healthy & staying active is challenging in today's hectic life, so we strive to be your health & nutrition partner – making healthy choices easy.

Our mission is to give you the good energy to get the most out of every day.

We love protein because it's essential for a healthy & active life, but getting enough protein is hard — especially protein that doesn't come with too many calories or too much fat. That's why we make delicious, healthy protein that curbs hunger & fuels your energy for whatever you love to do.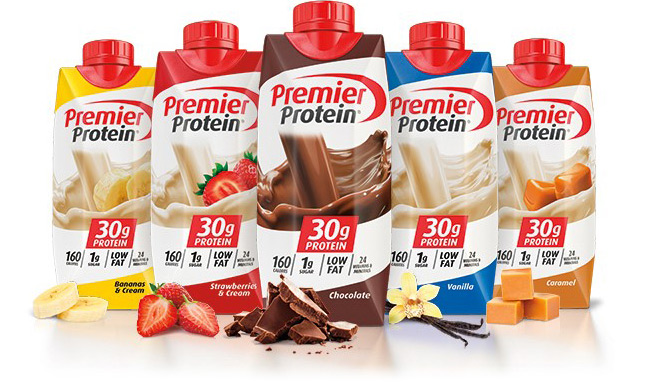 Packed with 30g of protein, 160 calories, and only 1g of sugar, Premier Protein shakes give you the good energy you need every day. They are ideal for breakfast on-the-go, an afternoon snack, or a post-workout boost. Available in five flavors: Chocolate, Vanilla, Strawberries & Cream, Bananas & Cream, and Caramel.



| | | |
| --- | --- | --- |
| | | |
| Delicious and refreshing, Premier Protein CLEAR® is packed with the protein your body needs without all the sugar and calories you don't. With 20g of protein, 90 calories, 0g sugar, and no artificial flavors, Clear Protein Drinks are a refreshing boost of good energy any time of the day. Available in three flavors: Tropical Punch, Orange Mango, & Raspberry. | Premier Protein's 30g bars are available in seven delicious flavors. Each bar is packed with 30g of protein & 3g of fiber, provides 10% daily value of calcium, and contains no artificial sweeteners, colors, or flavors. Whether you're grabbing breakfast on-the-go or in need of an afternoon snack, these delicious bars help curb hunger and fuel all-day long energy. | Premier Protein whey protein powders are available in two delicious flavors — Chocolate and Vanilla. Each powder uses 100% whey protein as its protein source, is gluten free and has no artificial sweeteners, colors, or flavors. Packed with 30g of protein, 180 calories, and 2g sugar per scoop, Premier Protein whey powder is perfect for shakes, smoothies, and cooking. |
| | | |
PREMIER PROTEIN® IS A REGISTERED TRADEMARK OF PREMIER NUTRITION CORPORATION.
COPYRIGHT 2017 PREMIER NUTRITION CORPORATION. ALL RIGHTS RESERVED.