Subject: Complimentary 8-31 webinar on inflammation and cancer
View this email in a browser | Update your email preferences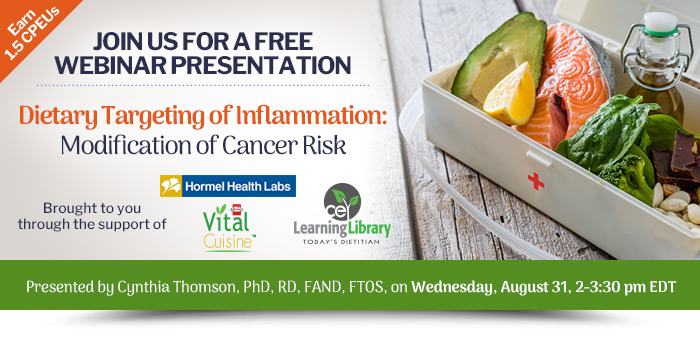 A significant and growing body of evidence demonstrates that inflammation contributes to cancer risk. Research suggests also that the inflammatory response may be modified by diet and dietary components.

This 1.5 CPEU webinar will examine the relationship between inflammation and cancer, as well as foods and dietary patterns that have been shown to impact the inflammatory response. Attendees will come away with the recognition that RDs can play an important role in positively impacting the health of patients and clients at risk for cancer by encouraging dietary interventions that reduce inflammation.



Learning Objectives



After completing this continuing education course, nutrition professionals should be able to:
Describe the physiology of the relationship between inflammation and cancer.
Differentiate anti- and pro-inflammatory foods/dietary constituents/dietary patterns.
Identify common biochemical indices used to assess inflammation and their relationship to cancer and cancer prognosis.
Evaluate and interpret current epidemiological and clinical evidence linking inflammation, diet and cancer.
Translate current evidence into nutritional counseling/care plans for cancer risk reduction.
CPEUs: 1.5
Suggested CDR Learning Needs Codes: 2110, 4040, 4050, 5150
Performance Indicators: 8.1.4, 8.1.5, 8.3.1
Level: 2
About Our Presenter



Dr. Cynthia Thomson is a Professor in the College of Public Health and holds joint appointments in the College of Agriculture and Life Sciences & the College of Medicine at the University of Arizona. Dr. Thomson received her Ph.D. from the Interdisciplinary Program in Nutritional Sciences, University of Arizona and completed NCI-sponsored post-doctoral training at the Arizona Cancer Center with a focus on diet and cancer prevention. Her research emphasis includes dietary intervention in breast and ovarian cancer survivors, as well as behavioral interventions for weight control and metabolic regulation. She was appointed as the Director of the Canyon Ranch Center of Prevention and Health Promotion at the Mel and Enid Zuckerman College of Public Health a center whose mission is to support a healthier Tucson community. In addition, she is also the Director of the Arizona Smokers Help Line (ASHLine).
About Our Sponsor



It can be challenging to maintain optimal nutrition and weight during cancer treatment. Hormel Health Labs has teamed up with the Cancer Nutrition Consortium (CNC) to create the HORMEL VITAL CUISINE brand a line of convenient, high-protein shakes and whey powders. The CNC's top oncology nutritionist and master chefs provided the dietary and culinary expertise that we¹ve put into HORMEL VITAL CUISINE products. HORMEL VITAL CUISINE products provide dense nutrition, taste good and are easy to consume for patients who really do not want to eat.



Disclosure



Dr. Cynthia Thomson has no relevant disclosures to report regarding this program. She has certified that no conflict of interest exists for this program. View our disclosure policy.