Subject: Complimentary webinar Sept. 27 on Food Evolution

View this email in a browser | Update your information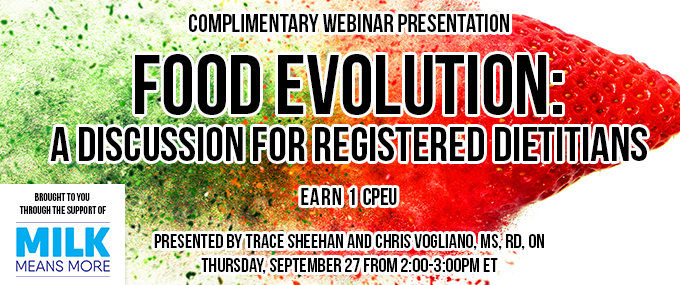 Patients and clients can have strong opinions about food. Sometimes, your discussions with patients and clients can be difficult, particularly when it comes to where their food is coming from and how it's produced. Maybe, some discussions with your RDN peers or members of the media can be equally difficult.

In this thought-provoking webinar, Trace Sheehan, the writer and producer of the feature film Food Evolution and Chris Vogliano, MS, RDN, will examine some common points of contention when it comes to discussing food production and, in particular, GMOs. Trace will draw from his experiences while conceiving and making Food Evolution, while Chris will contribute his expertise as an RDN who specializes in the study of sustainable food systems and food waste reduction.

Regardless of your position on GMOs, this lively and informative discussion will position RDNs to more effectively participate in discussions relating to food production and to provide understandable, credible guidance to their clients.



Learning Objectives


After completing this continuing education course, nutrition professionals should be able to:
List the basic characteristics of genetically modified organisms (GMOs) and differentiate GMOs from conventionally bred foods.
Identify three of the most common examples of GMOs in the modern food supply.
Discuss three of the common points of contention within the public debate surrounding GMOs.
Employ effective listening and communication strategies when participating in a controversial discussion relating to food production.
1 CPEU FREE
Suggested CDR Learning Needs Codes: 1130, 2040, 6070, 8018
Performance Indicators: 2.1.2, 3.3.4, 8.1.2, 8.3.6
Level: 2
About Our Presenters


Trace Sheehan, is the founder and CEO of Boomdozer, Inc., and director of development at Leftfield Pictures. Before launching Boomdozer, Sheehan co-founded the sales and production company, Preferred Content, responsible for critically acclaimed documentaries including Jiro Dreams of Sushi and Grace & Mercy. Sheehan graduated from Duke University with a degree in international business and has postgraduate degrees from the London School of Economics, the University of Cambridge and the American Academy of Dramatic Arts. He is a member of the PGA and NPACT and is represented by the Kaplan Stahler Agency.

Chris Vogliano, MS, RD, is a Registered Dietitian Nutritionist with a passion for creating a healthy, sustainable, and waste-free food system. Chris has served as a research fellow for The Academy of Nutrition and Dietetics Foundation, was awarded the "Young Dietitian of the Year" award by the state of Washington, and was recognized as "Today's Dietitian Magazine's" 10 RD's who are making a difference. Chris has also recently taught a food systems course at The University of Washington and has presented at over 35 conferences around America. Most recently Chris is pursuing his PhD in Global Health in Wellington, New Zealand, focused on creating more biodiverse sustainable food systems. During his free time Chris loves doing anything outdoors – hiking, biking, yoga, and dining his way through new cuisines.
About Our Sponsor


Milk Means More (Michigan's Dairy Council) is a sub-segment of the National Dairy Council (NDC). Since 1915, NDC has been a non-profit organization founded by dairy farmers and funded through the national dairy checkoff program. NDC has been, and will continue to be, committed to providing science-based education about the nutrition and health benefits that dairy foods provide, while also connecting people to the hard-working dairy farmers who bring nutritious milk, cheese and yogurt to tables across America.

With 100 years of experience and a staff of registered dietitian nutritionists, nutrition researchers and communication experts, NDC works to provide practical information about how eating three daily servings of low-fat and fat-free dairy foods like milk, cheese and yogurt can offer great taste, nutritional value and health benefits.



Disclosures


Chris Vogliano, MS, RD, reports the following relevant disclosures: He has received grants/research support from Massey University and Bioversity International (CGIAR). Trace Sheehan has no relevant disclosures to report. Both presenters have certified that no conflict of interest exists for this program. View our disclosure policy.