Subject: Complimentary webinars next two Wednesdays

View this email in a browser | Update your email preferences
Join us the next two Wednesday afternoons for free webinar presentations that can earn you 2.5 CEUs if you take part in both. For learning objectives, detailed descriptions, and presenter biographies, click the Register Now buttons.
Brought to you through the support of

Overview of the Nutritional and Health Attributes of Soy

Presented by Mark Messina, PhD
Wednesday, August 24, 2016, 2-3 pm EDT

Soybeans play an important role in the US food supply. For example, soybean oil accounts for over 40% of the US intake of essential fatty acids—both linoleic acid and alpha-linolenic acid—and soy protein is added for functional purposes such as moisture retention to a wide range of commonly-consumed foods. Because of its high quality, soy protein can make important contributions to nutrition.

However, most of the interest in soyfoods over the past 30 years has focused on these foods as uniquely-rich sources of isoflavones. Isoflavones are classified as phytoestrogens and selective estrogen receptor modulators. These soybean constituents have been posited to reduce risk of several chronic diseases but concerns have also been raised about their safety. This presentation will discuss the proposed health benefits of soyfoods and will address topics such as the effects of soy on male hormone status, the impact of soy on breast cancer prognosis and the effect of soy on mineral absorption and status. Emphasis will be placed on the clinical and prospective epidemiologic data.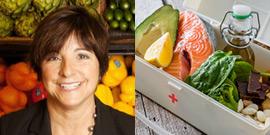 Brought to you through the support of

Dietary Targeting of Inflammation: Modification of Cancer Risk

Cynthia Thomson, PhD, RD, FAND, FTOS
Wednesday, August 31, 2016, 2-3:30 pm EDT

A significant and growing body of evidence demonstrates that inflammation contributes to cancer risk. Research suggests also that the inflammatory response may be modified by diet and dietary components.

This 1.5 CEU webinar will examine the relationship between inflammation and cancer, as well as foods and dietary patterns that have been shown to impact the inflammatory response. Attendees will come away with the recognition that RDs can play an important role in positively impacting the health of patients and clients at risk for cancer by encouraging dietary interventions that reduce inflammation.