Subject: Credit Claiming for Today's Webinar on the Power of Blueberries

View this email in a browser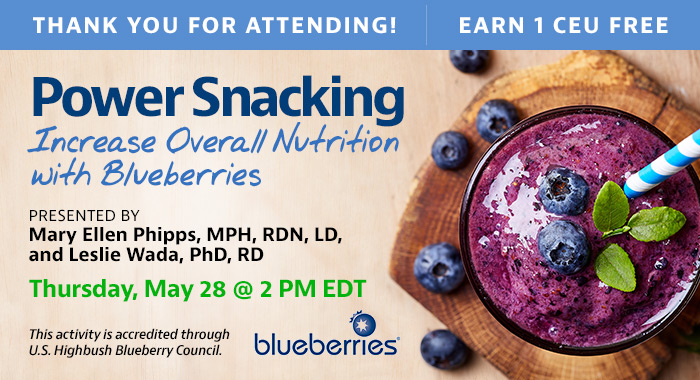 Thank you for attending the webinar Power Snacking: Increase Overall Nutrition with Blueberries on Thursday, May 28, 2020, at 2 PM EDT, with Mary Ellen Phipps, MPH, RDN, LD, and Leslie Wada, PhD, RD, and sponsored by US High bush Blueberry Council.



Handouts


Presentation slides and resources from this webinar will be available for download when you access the evaluation to obtain your certificate.



Credit Claiming


You must complete a brief evaluation within one year of the live program (before May 27, 2021) to claim your CE credit and download your certificate.
Follow these instructions to download your CE certificate:

| | |
| --- | --- |
| 1. | Log on to CE.TodaysDietitian.com, go to "My Courses" and click on the webinar title. |
| 2. | Click "Take Course" on the webinar description page. |
| 3. | Select "Start/Resume Course" on the webinar description page. |
| 4. | Complete and submit the evaluation. |
| 5. | Download and print your certificate. |
Recorded Version


We will be posting a free recorded version of the webinar as soon as possible on CE.TodaysDietitian.com to make all the great information presented and the continuing education credit available to all professionals.

Call 877-925-2355 or email ce@gvpub.com Monday through Friday from 9 AM to 5 PM EDT with any questions in regards to this webinar.
This 1 CEU webinar is sponsored by U.S. Highbush Blueberry Council.