Subject: Credit Claiming for Webinar on Meditation

View this email in a browser | Update your email preferences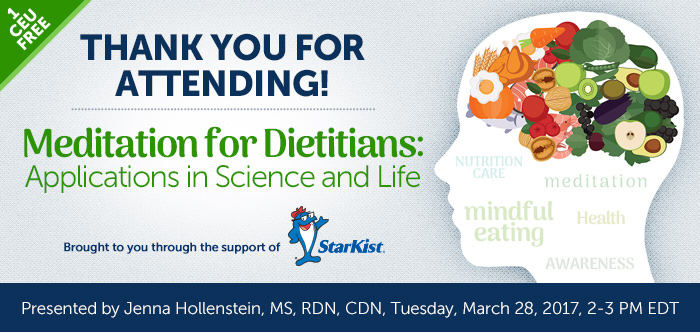 Thank you for attending our webinar "Meditation for Dietitians: Applications in Science and Life", presented by Jenna Hollenstein, MS, RDN, CDN, on Tuesday, March 28, 2017, from 2-3 PM EDT.



Handouts


Presentation slides and resources from this webinar will be available for download when you access the evaluation to obtain your certificate.



Credit Claiming


You must complete a brief evaluation within one year of the live program (before March 28, 2018) to claim your CE credit and download your certificate.


Follow these instructions to download your CE certificate:




Log on to CE.TodaysDietitian.com, go to "My Courses" and click on the webinar title.
Click "Take Course" on the webinar description page.
Select "Start/Resume Course" on the webinar description page. If you do not see this button, you may need to select "Start" on the webinar evaluation step.
Complete and submit the evaluation.
Download and print your certificate.



Group Viewing


If you viewed this webinar in a group setting, your group supervisor needs to email ce@gvpub.com or call 877-925-2355 to obtain and submit a Group Certification of Attendance Form. In addition, all individual attendees must have an account on CE.TodaysDietitian.com in order to obtain a certificate.



Recorded Version


We will be posting a free recorded version of the webinar as soon as possible on CE.TodaysDietitian.com to make all the great information presented and the continuing education credit available to all professionals. You will also be able to view and share the presentation via our YouTube channel. You will receive an email when the recorded version is available for viewing.

Call 877-925-2355 or email ce@gvpub.com Monday through Friday from 9 AM to 5 PM EDT with any questions in regards to this webinar.