Subject: Dietitians' Top 10 Tips for Healthy Eating
VIEW IN BROWSER
Thank you for your continued support of Today's Dietitian. Below is information from one of our sponsors: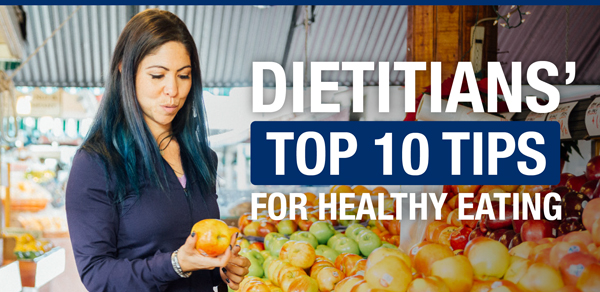 Herbalife Nutrition recently surveyed dietitians who attended the 2018 annual meeting of the Academy of Nutrition and Dietetics about their patients' nutrition goals, diet-related misconceptions, behavioral hurdles, and challenges related to following a healthy meal plan. Highlights from the survey include:
| | |
| --- | --- |
| • | Nearly 57% listed "losing weight" as the most common goal among patients reported by their dietitians. |
| | |
| --- | --- |
| • | Among patients, the most common misconception is that "a very low carb diet is the best way to lose weight and keep it off." This was reported by 31% of the dietitians surveyed. |
| | |
| --- | --- |
| • | When it comes to staying on regimen, more than half of dietitians (51%) reported "lack of motivation to stay on the plan" as their patients' biggest behavioral obstacle. |

To address these common dietary pitfalls, we reached out to our Herbalife Nutrition Dietitian Advisory Board (DAB) members to share their top 10 tips to achieve weight loss and nutrition goals.
| | |
| --- | --- |
| TIP #1: Set and celebrate milestones during your weight loss journey. | TIP #2: Learn ways to practice portion control. |

For more content, visit IAmHerbalifeNutrition.com.

This site features content from company experts covering various topics including nutrition, fitness, and more.

Herbalife Nutrition is a global nutrition company.


Since 1980, the Company has been on a mission to improve nutritional habits around the world with great-tasting, science-backed nutrition products that help people get the right balance of healthy nutrition. Herbalife Nutrition products are available exclusively through entrepreneurial distributors who provide comprehensive and personalized solutions to their customers' nutrition and wellness goals.