Subject: Don't Waste Another Minute: Register for the 8/13 Food Waste Webinar Today!

View this email in a browser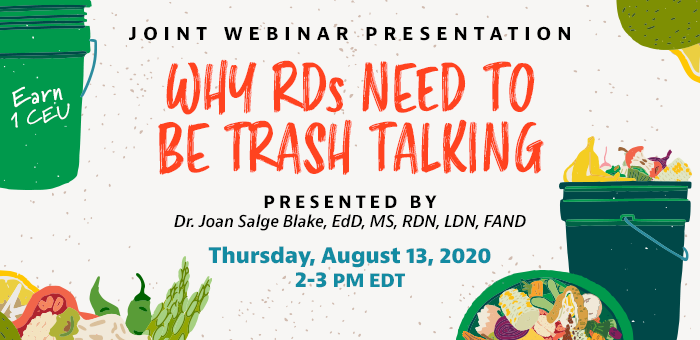 Up to 40 percent of the food in the United States is wasted. This translates to over $160 billion of edible food being tossed rather than consumed. Sadly, this wasted food — which is the single largest component of our landfills — rots in dumps and landfills producing methane, an environmentally ugly greenhouse gas.

To add more misery to this issue, over 12 percent of United States households experience food insecurity forcing them to go to bed hungry. So how can we stop wasting food, hurting the environment, and instead start helping our hungry neighbors?

Join Joan Salge Blake, EdD, MS, RDN, LDN, FAND, on Thursday, August 13, 2020, from 2–3 PM EDT, as she shows you why and how everyone, from the farmer to the consumer, can play an active role in reducing food waste.



Learning Objectives



| | |
| --- | --- |
| 1. | Identify the stages in the farm-to-table continuum where food is wasted. |
| 2. | Understand and detail the three reasons food is wasted. |
| 3. | Explain and implement three ways consumers can reduce food waste. |
Price: $19.99
1 CEU
Suggested CDR Learning Needs Codes: 4030, 4070, 6010, 8018
Suggested Performance Indicators: 6.3.11, 7.2.4, 9.1.3, 12.1.1
CPE Level: 1
About Our Presenter


Dr. Joan Salge Blake, EdD, MS, RDN, LDN, FAND, is a nutrition professor at Boston University (BU), a sought-after international speaker and journalist, and the host of Spot On!, the popular nutrition, health, and wellness podcast. She has received the 2020 Media Excellence Award from the Academy of Nutrition and Dietetics and was also awarded the prestigious Whitney Powers Excellence in Teaching Award from Boston University twice. She has lectured at both BU's School of Medicine and the Goldman School of Dental Medicine. Joan is the author of two books: Nutrition & You and Nutrition & You: Core Concepts to Good Health. She is also the co-author of Nutrition: From Science to You.

Dr. Blake has conducted over 2,000 interviews on numerous nutrition topics for media outlets including The New York Times, Food Network, Newsweek, Washington Post, Forbes, Prevention, WebMD, Parade, Consumer Reports, MSNBC, The Boston Globe, CBS's "Early Show," CNN, NBC News, CBS News, NPR, Reader's Digest, Cosmopolitan, People, Cooking Light, Parents, Fitness, Parenting, Shape, Self, Weight Watchers, Woman's World, Health, Redbook, Family Circle, Martha Stewart Living, Rachel Ray, Working Mother, Glamour, More, Sports Illustrated, Woman's Day, All You, and O Magazine. She was named by Good Housekeeping Magazine as the expert to follow on Twitter for healthy eating.

Joan has and continues to serve on numerous advisory boards including FitBit and Prevention Magazine.
Disclosures


Dr. Joan Salge Blake, EdD, MS, RDN, LDN, FAND, has the following disclosures to report: she is a board member for Fitbit and Prevention Magazine, and has received honoraria from Canned Food Alliance and Produce for Better Health. She certifies that no conflict of interest exists for this program. View our disclosure policy.