Subject: Getting Closer to the Plate: How to Manage Nutrition Controversy and Communicate the Science
Trouble viewing this email? Click here.
Thank you for your continued support of Today's Dietitian. Below is information from one of our sponsors.

This activity is hosted by Monsanto and registration will take place on its website.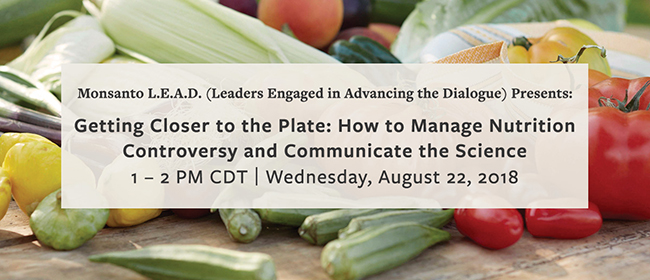 Everyone has to eat, and many develop deep-rooted beliefs about food and agriculture. Whether it's total avoidance of milk when lactose intolerant or produce fear resulting from the Dirty Dozen—the list is long, but it's short on science.

With a focus on health and flavor from a multicultural perspective, Toby Amidor, MS, RD, CDN, will discuss the top misconceptions and showcase various ways to communicate science to clients and the public.



Learning Objectives:



Participants will be able to:
Identify common misconceptions
Debunk common misconceptions using the latest science
Communicate to clients and the public positive messages regarding these misconceptions
Make recommendations to clients and the public that are in line with the dietary guidelines and other recommended standards
Learning Needs Codes: 1130, 4100, 6020
Practice Competencies: 2.1.7, 2.1.8, 2.1.10, 8.1, 8.2, 8.3
This session is approved for 1 hour of continuing education credit.


About the Presenter



With over 18 years of experience in the food and nutrition industry, Toby Amidor, MS, RD, CDN, is a Wall Street Journal best-selling cookbook author, leading dietitian and recipe developer who believes that healthy and wholesome can also be appetizing and delicious. Toby is the author of four cookbooks including Smart Meal Prep for Beginners, The Easy 5-Ingredient Healthy Cookbook, The Healthy Meal Prep Cookbook, and The Greek Yogurt Kitchen.

Toby is the founder of Toby Amidor Nutrition, where she provides nutrition and food safety consulting services for individuals, restaurants, and food brands and commodities. For 10 years she has been the nutrition expert for FoodNetwork.com, writing for their Healthy Eats Blog, and is a regular contributor to U.S. News and World Report Eat + Run blog, and MensJournal.com and has her own "Ask the Expert" column in Today's Dietitian Magazine. Toby has been quoted in publications like FoxNews.com, Self.com, Oxygen Magazine, Dr. Oz The Good Life, Mic.com, Reader's Digest, Shape.com, Women's Health, Redbook, Men's Journal, Huffington Post, Everyday Health, and more. Toby has also appeared on television including shows like The Dr. Oz Show, AMHQ with Sam Champion, Good Day Street Talk Fox5 NY, and San Antonio Live.

For the past 9 years she has been an adjunct professor at Teachers College, Columbia University and is also an adjunct at Hunter College in New York City. Through ongoing consulting and faculty positions, she has established herself as one of the top experts in culinary nutrition, food safety, and media. In 2018, Toby was awarded by the Academy of Nutrition & Dietetics the coveted Media Excellence Award.