Subject: IMPORTANT INFORMATION: Your Final Attendee Insider
View this email in a browser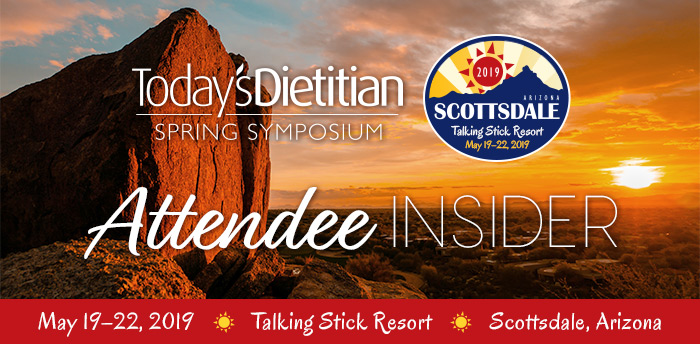 IT'S SHOWTIME!
We can't wait to see you in Scottsdale!
Dear Spring Symposium Attendee:


The 2019 Today's Dietitian Spring Symposium team is eagerly anticipating your arrival at the Talking Stick Resort! To make sure everyone's experience gets started on the right track, we've included some important information below to help you prepare for arrival.
AN IMPORTANT "TALKING" POINT


A key point of information for those heading into the Scottsdale/Phoenix area:

The location of our event is Talking Stick Resort in Scottsdale. There is also a facility called Talking Stick Resort Arena, which is in downtown Phoenix ...

over 20 miles away from our location!



So we urge you to be extra careful about the destination address you're using when arranging ground transportation, typing into your Uber or Lyft apps, etc. We're at the Resort/Casino, NOT the Arena!

Thanks to our friend and local RD Barb Ruhs for the inside info.
PROGRAM GUIDE


You will receive a copy of the Program Guide when you pick up your name badge, but you can download a sneak peek by clicking the link below.

The session schedule and all descriptions, presenters, meal plan, and special event information are all within.

2019 Spring Symposium Program Guide
SESSION HANDOUTS


If you would like a paper copy of any of our session presentations, you can download and print from our CE Learning Library website using attendee access code:

TD2019

. We will not have printed handouts on-site!

Handouts are available at CE.TodaysDietitian.com/SS19Handouts or you can go to CE.TodaysDietitian.com, select the Symposium tab, and click on the 2019 Handouts dropdown.
MEALS


Breakfast and lunches are detailed on page 28 of our Program Guide.

Monday – Wednesday, breakfast will be a buffet, including vegetarian/ vegan-friendly options. For Monday's lunch, look for a ticket in your badge holder for the lunch presentation you're scheduled to attend. Tuesday's lunch will be served in the Exhibit Hall.
CREDIT CLAIMING


Symposium certificates will not be awarded in person at the live event. You must complete a brief online evaluation for each session attended in order to obtain credit.

Instructions for completing evaluations and downloading certificates are included on page 27 in the 2019 Spring Symposium Program Guide and on our CE Learning Library at CE.TodaysDietitian.com/SS19CreditClaiming.
SOCIAL MEDIA

#TDinAZ
Please use our 2019 Symposium hashtag

#TDinAZ

in your posts and tweets before, during and after the event.
Also, please tag Today's Dietitian on all of your tweets + Facebook and Instagram posts over the course of the conference!
IMPORTANT TIMES & LOCATIONS
Badge Pickup & Symposium Services




Symposium Services Desk


Saturday: 3 PM – 7 PM
Sunday: 9 AM – 7 PM
Monday: 7 AM – 6 PM
Tuesday: 6:30 AM – 6 PM
Wednesday: 7:30 AM – 11:45 AM
Stop by the Symposium Services Desk near the Salt River Ballrooms to pick up your badge and Program Guide. Today's Dietitian staff will be available to answer any questions. Tote bags will be available for pickup during Exhibit Hall hours on Monday.

Keynote Presentation




Sunday, 5:30 PM – 6:30 PM




Salt River 6/7/8



Featured Speaker: Namrita Kumar Brooke, PhD, RDN
Moderator: Dr. Christine Rosenbloom

Sponsored by BENEO
When you're a dietitian AND a former competitive athlete who now coaches young endurance athletes, you have a unique perspective on what it takes to fuel an active and athletic lifestyle.

Lively discussion will include strategies and tips to use in practice to help active adults understand the value of evidence-based nutrition plans and sound coaching.
Happy Hour Reception &
Exhibit Hall Opening


Monday, 5:15 PM – 7:30 PM




Salt River 4/5



Opening Reception Sponsored by a2 Milk
Join us for a reception to kick off the opening of our Exhibit Hall! Enjoy refreshments and network as you get your first opportunity to visit with our sponsors. Enjoy samples to try, taste, and bring home. Consume all of the food, knowledge, and connections available to you in our Exhibit Hall.

Tuesday Lunch & Exhibit Hall Hours




Tuesday, 12:45 PM – 2:45 PM




Salt River 4/5



Lunch sponsored by Egg Nutrition Council & Simple Mills



Grand Prize Drawing: Tuesday, 2:40 PM




Grand Prize:

FREE registration + a 3-night stay at our 2020 Spring Symposium at the Hyatt Regency in Savannah, GA

All prize winners and Grand Prize Drawing will be announced during Tuesday's Exhibit Hall hours. You MUST be present to win the Grand Prize!
Enjoy your lunch and another opportunity to get up close and personal with our sponsors. Engage and interact with this diverse group of companies, whose representatives understand the role of dietitians and are here to discuss products and programs that can benefit you and your clients.



You can receive 1 CPEU by attending the Exhibit Hall on Tuesday, May 21.

One CPEU is equivalent to one contact hour (hour spent in the Exhibit Hall). Complete an online evaluation at CE.TodaysDietitian.com to receive credit.

AM Fitness Class




Tuesday, 6:30 AM




Salt River Foyer



Lifeway Foods is proud to sponsor a TruFlow class led by TruFusion gym instructor Dana Strang.
TruFlow is a flow-based yoga class designed for all levels and inspired by the TruFusion Signature Series. Be prepared to leave feeling revitalized and more confident in your physical and spiritual abilities.

Take home a free yoga mat and goodie bag — and be sure to snag an 8 oz to-go bottle of Lifeway Kefir for a perfect recovery drink after the workout.

'80s Concert with The Radio Rebels




Tuesday, 8 PM




The Showroom



Sponsored by Regular Girl
Bring your shoulder pads and leg warmers, tease your hair nice and high, and get your '80s on with a retro night of music and fun with The Radio Rebels!

Members of this professional dance and party band have been in the music industry for over 20 years, so they know how to pack the dance floor and make our event memorable!
Thanks to our 2019 sponsors for their support of continuing education in nutrition and dietetics