Subject: Important Symposium Attendee Information
View this email in a browser | Update your information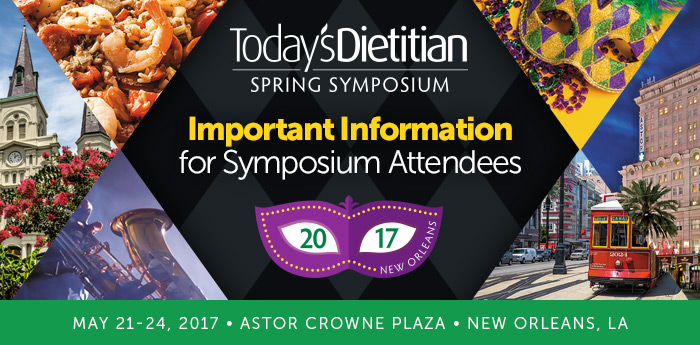 Dear Spring Symposium Attendee:


The 2017 Today's Dietitian Spring Symposium team is eagerly anticipating your arrival at the Astor Crowne Plaza Hotel in New Orleans! To make sure everyone's experience gets started on the right track, we've included some important information below to help you prepare.




Program Guide & Session Schedule


You will receive a copy of the Program Guide when you pick up your name badge, but you can download a sneak peek by clicking the link below. We've also provided a copy of the final session schedule for those who'd like to print a copy in advance.

• 2017 Spring Symposium Program Guide
• 2017 Spring Symposium Session Schedule




Session Handouts


If you would like a paper copy of any of our session presentations, you can download and print from our CE Learning Library website using attendee access code: TDSS17

Handouts are available at CE.TodaysDietitian.com/SS17Handouts or you can go to CE.TodaysDietitian.com, select the Symposium tab, and click on the 2017 Handouts dropdown.




Credit Claiming


Symposium certificates will not be awarded in person at the live event. You must complete a brief online evaluation for each session attended in order to obtain credit. Instructions for completing evaluations and downloading certificates are included in the 2017 Spring Symposium Program Guide and on our CE Learning Library at CE.TodaysDietitian.com/SS17CreditClaiming.




Social Media & Wifi


While in the meeting area, you can use our event wifi access code: TDinNOLA
You may recognize it as the social media hashtag we're using for this year's Symposium — #TDinNOLA

Please use this hashtag for all of your Symposium-related Tweets and Instagram posts. Also, please tag Today's Dietitian on all of your Facebook posts!




Important Times & Locations




Badge Pickup


Symposium Services Desk
Saturday, 3:00 - 7:00 PM
Sunday, 9:00 AM - 7:00 PM
Monday & Tuesday, 7:00 AM - 5:30 PM
Wednesday, 8:00 AM - 12:30 PM
Stop by the Symposium Services Desk in the Astor Lobby to pick up your badge and program guide. Today's Dietitian staff will be available to answer any questions. Tote bags will be available for pickup during Exhibit Hall hours on Monday.

Keynote Session


Sunday, 5:00 - 6:15 PM
Astor Ballroom
Featured Speaker: Felicia D. Stoler, DCN, MS, RDN, FACSM, FAND, Registered Dietitian Nutritionist & Exercise Physiologist
Sponsored by Regular Girl
Third-time career changer Dr. Felicia Stoler will inspire and empower you to open your mind to the possibilities...from work-life balance, to technology, social media, working with brands, product innovation, staying ahead of trends, and yes — #fakenews. This is an interactive session, so please bring questions!

Happy Hour


Monday, 5:30 - 6:30 PM
Grand Gallery & Bourbon Balcony
Sponsored by LaCroix, StarKist, Zespri Kiwifruit
Join us for cocktails, networking, and a prime view of the French Quarter from the Bourbon Balcony. Hors d'oeuvres will be served.

Exhibit Hall


Monday & Tuesday, 12:00 - 2:00 PM
Grand Ballroom
Prize Drawings announced throughout exhibit hours.
Grand Prize Drawing: Tuesday, 1:45 PM
This is your opportunity to get up close and personal with our sponsors! Engage and interact with this diverse group of companies, whose representatives understand the role of dietitians and are here to discuss products and programs that can benefit you and your clients. Many of our sponsors have samples to try, taste, and bring home, so feel free to consume all of the food, knowledge, and connections available to you in our Exhibit Hall.

Opening Workshop


Sunday, 12:00 - 4:30 PM | 4 CEUs
Building a Better Blog:
An RD's Guide to Starting a Blog, Finding Your Voice, and Perfecting Your Promotion Online
Presented by: Regan Miller Jones, RD
Start the Symposium by enhancing your nutrition communication know-how by learning how to start a blog and utilize digital tools to translate nutrition into delicious and nutritious food choices. Learn to motivate, inspire, and engage consumers with content, photography, videos, and recipes. Learn how to move beyond sounding like a scientist and instead start motivating change in the modern media environment.

Closing Workshop


Wednesday, 8:30 AM - 1:00 PM | 4 CEUs
Type 2 Diabetes Bootcamp
Presented by: Hope Warshaw, MMSc, RD, CDE, BC-ADM, FAADE, and Jill Weisenberger, MS, RDN, CDE, FAND, CHWC
Rates of prediabetes and type 2 diabetes are rising exponentially. Treatment options and management technologies continue to multiply. If you're an RD/RDN ready for a deep dive into type 2 diabetes, this bootcamp is for you. Conducted by two experienced dietitian diabetes educators. Case presentations with participant interaction will be a core element of the program.



About Meals


These meals will be provided as part of our program.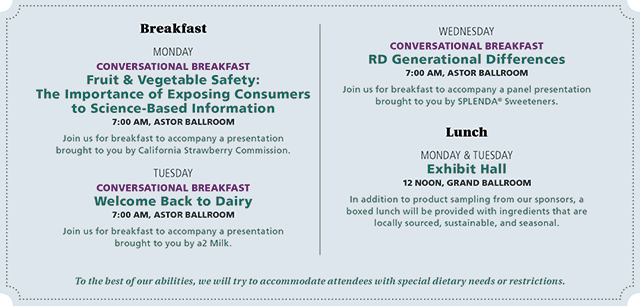 Dinner Companion Finder


We've set up an easy way for those attendees looking for dinner companions Sunday, Monday, or Tuesday evening to connect. The establishments listed in this form are suggestions only — we are not endorsing these establishments, but merely providing options for you.

Please note that Today's Dietitian is not responsible for the cost of any food or beverage incurred at these restaurants and will not be making any of the restaurant reservations on behalf of the attendees. It is up to the individual to make his/her own restaurant reservation(s) accordingly. Visit our table finder here.




Contact Us


Pre-event: Email symposium@gvpub.com or call 877-925-2355, Monday - Friday, 9 AM - 5 PM EDT. On-site: Visit Symposium Services in the Astor Lobby, Saturday: 3 - 7 PM, Sunday: 9 AM - 7 PM, Monday & Tuesday: 7 AM - 5:30 PM, Wednesday: 7 AM - 1:30 PM


Thanks to our sponsors for their support of continuing education in nutrition and dietetics.