Subject: International study tour for dietitians

View this email in a browser | Update your email preferences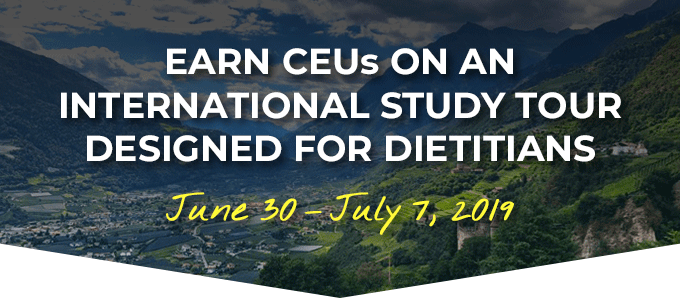 Join Sharon Palmer, Nutrition Editor of Today's Dietitian and Philip Ackerman‑Leist, the Dean of the School of the New American Farmstead at Sterling College, for an international study tour designed for a select group of dietitians to learn about the sustainable food systems in the South Tirol region of the Italian Alps.

Participants will be based at Brunnenburg Castle & Agricultural Museum in the village of Dorf Tirol, featuring an organically-managed working farm that illustrates creative, sustainable methods of agriculture that align with the preservation of the cultural foodways of the unique South Tirol region of the Italian Alps. Learn firsthand about the region's food culture, ancient and modern farming practices, and acclaimed cuisine at this 13th century castle and farm.

Participants will work on the farm, prepare foods in the rustic teaching kitchen, sample local fare, and meet with local farmers, entrepreneurs, and artisans in the region. The trip also includes a majestic hiking tour of the Dolomites, with an overnight stay in a family-run mountain guest lodge.
This study tour provides three college credits, which translates to forty‑five (45) CPE units for registered dietitians.
For course details, tour information, and to register for this unique opportunity, visit

https://sterlingcollege.edu/course/international-food-study-tour-for-dietitians-at-brunnenburg-castle/