Subject: Invitation for 2017 Symposium Registrants

View this email in a browser | Update your information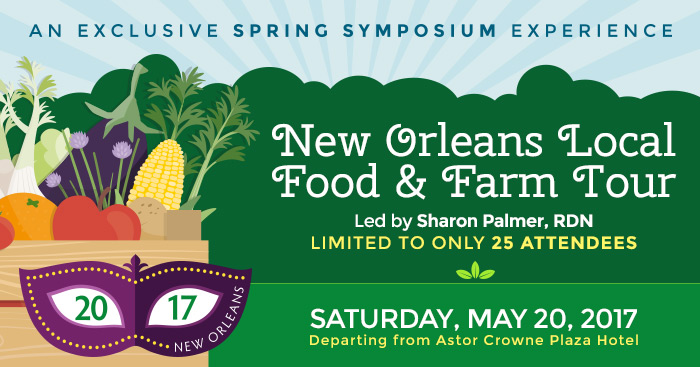 Since you're already registered for the Spring Symposium, you have an inside track to be one of just 25 attendees to enjoy a unique view of one of the world's great food scenes!


We're thrilled you've decided to join us in New Orleans and registered for the Spring Symposium! Why not enhance your experience and add a day to your stay with this special and intimate look at the local food scene in New Orleans?

This fun and information-filled event will give you an opportunity to observe highlights of the local food, farm, and hunger organizations in New Orleans. Led by Sharon Palmer, RDN, you will have the opportunity to gain access to a personalized tour of local venues, as well as taste local, seasonal food prepared by an award-winning chef.

Since tour participants must be registered for the symposium to attend,

you're already qualified!



Numbers are limited to only 25 attendees in this small, private tour, which is $129 per person and includes transportation, tours, and lunch. Space will be awarded on a first-come, first-serve basis.




For more information, including session presenters,

hotel information, and registration for the 2017 Spring Symposium,

visit

www.TodaysDietitian.com/ss17

.
Thanks to our sponsors for their support of continuing education in nutrition and dietetics.