Subject: Join Us for Part 2 of a CKD-Focused Webinar

View this email in a browser | Update your email preferences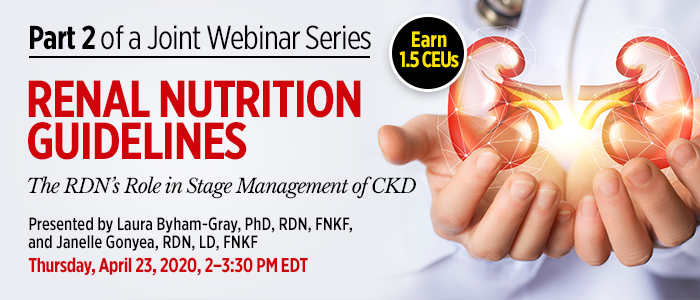 Thirty seven million American adults have chronic kidney disease (CKD) and millions of others are at increased risk to develop this condition. Early detection and treatment can help prevent the progression of CKD. Medical nutrition therapy (MNT) is a cornerstone of the treatment plan.

On Thursday, April 23, 2020, from 2–3:30 PM EDT, join Laura Byham-Gray, PhD, RDN, FNKF, and Janelle Gonyea, RDN, LD, FNKF, for a joint Becky Dorner & Associates and Today's Dietitian webinar that will review the soon-to-be-published evidence-based Renal Nutrition Practice Guidelines with emphasis on earlier stage CKD. Through case study presentations and a review of available resources, RDNs will learn about key components of care for this patient population and how to provide individualized MNT to improve patient outcomes and quality of life.



Learning Objectives



| | |
| --- | --- |
| 1. | Explain how MNT goals change as chronic kidney disease (CKD) progresses. |
| 2. | Examine and interpret the results of an Evidence Analysis Center systematic Review, and report on the efficacy of MNT provided by an RDN or international equivalent on primary goals of MNT. |
| 3. | Apply evidence-based findings from diverse case studies that represent the different stages of CKD. |
Price: $27.50
1.5 CPEUs
Suggested CDR Learning Needs Codes: 3020, 5090, 5340, 5390
Performance Indicators: 1.2.2, 6.2.5, 8.1.5, 8.3.6
Level: 2
Registration will take place on the Becky Dorner & Associates website.
Missed Part 1 of this 2-Part Series?
VIEW PART 1: Renal Nutrition Guidelines: Updates and Implementation
About Our Presenters


Laura Byham-Gray, PhD, RDN, FNKF, is a Professor and Vice-Chair for Research in the Department of Clinical and Preventive Nutrition Sciences, School of Health Professions at Rutgers University. Prior to teaching, Dr. Byham-Gray practiced in the field of clinical nutrition with specialty practice in nutrition support and kidney disease for over 15 years. She has held numerous elected and appointed positions at the national, state, and local levels of National Kidney Foundation, The American Society of Parenteral and Enteral Nutrition, and the Academy of Nutrition & Dietetics. Currently, Dr. Byham-Gray is chairing the Macronutrients Section of the joint NKF and Academy KDOQI/EAL Clinical Practice Guidelines in Nutrition in CKD. She has also served as the associate editor for the National Kidney Foundation publication, the Journal of Renal Nutrition. Laura has over 100 peer-reviewed articles and professional presentations related to kidney disease, dietetics practice, and clinical decision-making as well as management. Dr. Byham-Gray received her bachelor of science in nutrition and dietetics from Mercyhurst University in Erie, Pennsylvania, her master of science in food science and human nutrition from the University of Delaware, and her PhD in Nutrition at the New York University, Steinhardt School of Education in the Department of Nutrition, Food Studies, and Public Health.

Janelle Gonyea, RDN, LD, FNKF, has 30 years of experience as a renal dietitian at the Mayo Clinic in Rochester, MN, working with chronic kidney disease patients in all stages of their disease process and across all treatment options. In addition to patient care, Janelle has authored MNT protocols, chaired committees in charge of developing patient education materials and programing for the Division of Nephrology and Hypertension, educated countless nephrology colleagues, medical students, nephrology fellows and dietetic interns, holding the rank of Assistant Professor of Nutrition for the Mayo Clinic College of Medicine. She has authored numerous articles for patient and professional publications and often speaks at regional and national meetings on various topics related to renal nutrition. Janelle has served on the executive committee of the National Kidney Foundation's Council on Renal Nutrition as Editor of the Renalink newsletter and chair of the planning committee for the annual Spring Clinical Meeting and preconference workshop. Currently she serves as an editor for the 3rd edition of "A Clinical Guide to Nutrition Care in Kidney Disease," a committee member for the revision of the Academy of Nutrition and Dietetics' National Kidney Diet and the Medical Review Committee for the Midwest Kidney Network.
Disclosures


Laura Byham-Gray, PhD, RDN, FNKF, has the following disclosure to report: she has received grant/research support from Keryx-National Kidney Foundation. Janelle Gonyea, RDN, LD, FNKF, has no disclosures to report. Both speakers certify that no conflict of interest exists for this program. View our disclosure policy.