Subject: Join us in May and avoid FOMO
View this email in a browser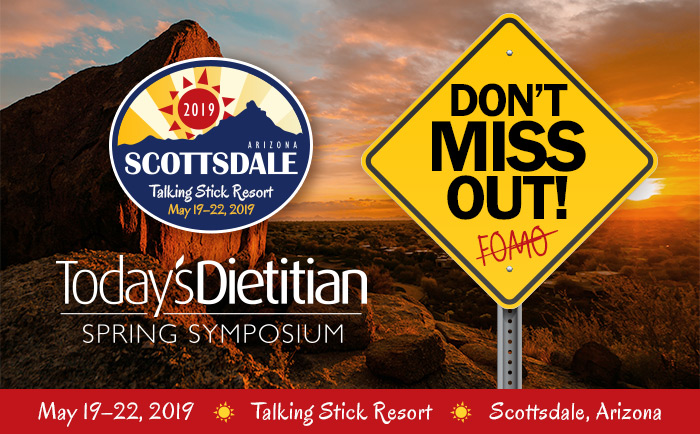 BE HAPPY!

BE THERE!




BE PART OF A GREAT EVENT FOR RDs!



If you're a dietitian who thrives on learning, wants CEUs, and enjoys meeting and connecting with fellow nutrition professionals, then don't live in fear of missing out and make yourself happy by registering to join us May 19–22 at the picturesque Talking Stick Resort in Scottsdale, AZ, for the 2019 Today's Dietitian Spring Symposium.

Our continuing education program allows attendees to earn 15 CEUs or more and features sessions led by engaging and well-respected professionals in their field, on topics that are vital to the career development of registered dietitians and their treatment of patients and clients.

In addition to the continuing education, we'll also have a variety of opportunities to interact and network with fellow RDs in attendance. Our high-energy exhibit hall is where sponsors will show their newest products and brands, providing samples and answering all questions. We'll also have a number of special events, fitness classes, and even a '80's throwback concert with The Radio Rebels, presented by Regular Girl.
Your Registration Includes:

• All continuing education sessions
• Networking opportunities with peers and presenters
• Product sampling from our sponsors
• Keynote address
• Fitness activities
• Special events
* Registration does not include accommodations at Talking Stick Resort or travel to and from Scottsdale.
DON'T FEEL LIKE YOU'RE MISSING OUT!


FEEL THE WARM ARIZONA SUN INSTEAD!



Register for our Spring Symposium and book your room at the
Talking Stick Resort at TodaysDietitian.com/SS19.
Thanks to our 2019 sponsors for their support of continuing education in nutrition and dietetics