Subject: Last chance for today's webinar at 2 pm ET

View this email in a browser | Update your email preferences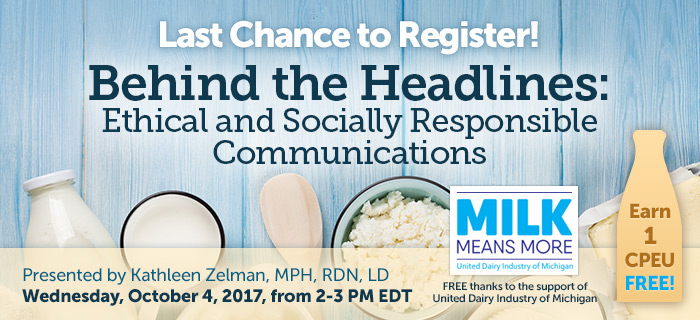 On Wednesday, October 4, 2017, from 2-3 PM EDT, Kathleen Zelman, MPH, RDN, LD, will focus on navigating the challenges of professional ethics with a road map to responsible communications, even if evidence conflicts with personal beliefs; including tips on translating science into sensible sound bites and creating messages that resonate with consumers in a wide range of outlets from television to social media to consumer communications.



Learning Objectives


After completing this continuing education course, nutrition professionals should be able to:
Understand the mindset of today's consumers behind the headlines
Employ effective communication strategies that resonate with fact-resistant consumers
Complete a review of the professional code of ethics through case study analysis
1 CPEU
FREE
Suggested CDR Learning Needs Codes: 1050, 1090
Performance Indicators: 1.1.2, 1.1.3, 1.1.4, 1.1.8
Level: 2
About Our Presenter


Kathleen Zelman, MPH, RDN, LD, is a nationally recognized nutrition correspondent serving as a contributing editor for Food and Nutrition Magazine and a nutrition expert for United Healthcare providing monthly webinars, articles, recipes and blogs. In 2016, she was awarded the Academy of Nutrition and Dietetics 'Lenna Frances Cooper Memorial Award' in recognition of her distinguished career and remarkable contributions to the dietetics profession. She has extensive media experience and was awarded the 2007 Academy of Nutrition and Dietetics 'Media Excellence Award' for her contribution and commitment to educating consumers on the role of diet, health and nutrition issues through the media.



About Our Sponsor


Milk Means More (Michigan's Dairy Council) is a sub-segment of the National Dairy Council (NDC). For over 100 years, the NDC has committed to providing health professionals and consumers with science-based education on the nutrition and health benefits of dairy foods as part of a well-balanced diet. The dairy industry is committed to providing products that are affordable and produced in a socially and environmentally responsible manner. This includes technical advances to allow more food to be produced in a humane way while reducing any impact on the environment. www.MilkMeansMore.org
Disclosures


Kathleen Zelman reports the following relevant disclosures: she is a consultant to United Healthcare, is on the advisory board of Total Health Initiative, Inc. and Sabra, is a Health Professional Advisor to Egg Nutrition Center, and is a member of Leaders Engaged in Advancing the Dialogue on Agriculture. She has certified that no conflict of interest exists for this program. View our disclosure policy.