Subject: Last chance to sign up for today's free webinar!

View this email in a browser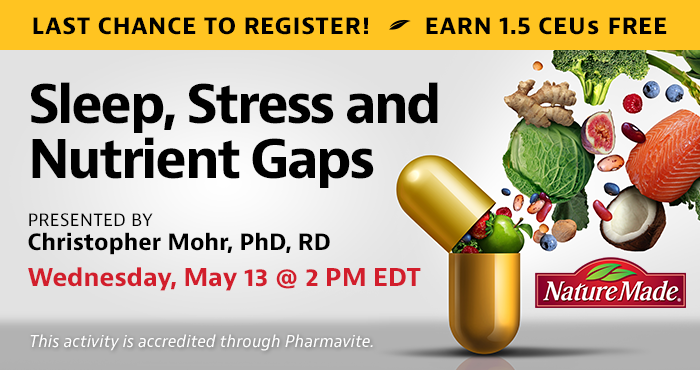 On Wednesday, May 13, 2020, at 2 PM EDT, Chris Mohr, PhD, RD, will discuss the research and details of specific nutrients, known as shortfall nutrients, that have been identified as nutrients of public health concern. These nutrients not only impact our health but according to research, also impact our ability to sleep, recover, and be the best version of ourselves.



Learning Objectives



| | |
| --- | --- |
| 1. | Understand how nutrient gaps can impact individuals throughout their lifespan. |
| 2. | Discover how to integrate approaches that improve nutrient intake to maximize health. |
| 3. | Learn key strategies about dosing that will optimize sleep and reduce stress. |
1.5 CEUs FREE
Suggested CDR Learning Needs Codes: 4010, 4120, 6010, 6080
Suggested Performance Indicators: 8.1.2, 8.2.1, 9.2.1, 9.3.1
Level: 2
About Our Presenter


Christopher Mohr, PhD, RD, is an internationally recognized nutrition expert and is the Co-Owner of Mohr, Results, Inc. He is on the Men's Health Magazine Advisory Board, was the consulting Sports Nutritionist for the Cincinnati Bengals and has worked with select WWE wrestlers to help them with their nutrition programs.

His expertise has offered him the opportunity to speak at the White House, the CIA and to audiences in over 10 countries and almost all 50 states. Dr. Mohr often appears on TV as a nutritional guest expert, including an appearance with Chef Emeril Lagasse, CBS's 'The Talk' and another on the Montel Williams Show. He worked alongside LL Cool J as the nutrition consultant and expert for the NY Times Bestseller, "LL Cool J's Platinum Workout" and collaborated with Fitness Celebrity Denise Austin & Mario Lopez, to write the nutrition sections for their books.

Dr. Mohr has Bachelor and Master of Science degrees in Nutrition from The Pennsylvania State University and University of Massachusetts, respectively. He earned his PhD in exercise physiology from the University of Pittsburgh and is a Registered Dietitian.
About The Sponsor


For nearly 50 years, Nature Made has been a pioneer in the industry and become the #1 Pharmacist Recommended Vitamin and Supplement Brand by offering high-quality, safe, science-backed products to the masses. Visit naturemade.com.



Disclosures


Christopher Mohr, PhD, RD, has the following relevant disclosures to report: Pharmavite, Clif Bar, Men's Health, NOW Foods. The presenter certifies that no conflict of interest exists for this program.