Subject: Love Your Heart, Eat Your Seafood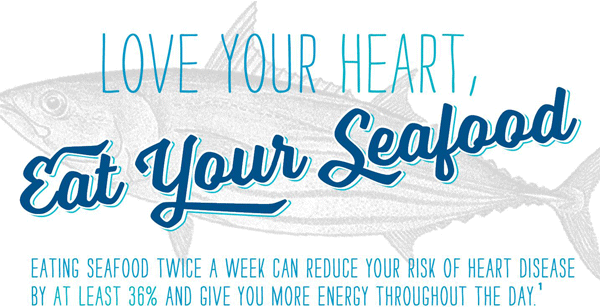 | | |
| --- | --- |
| Thank you for visiting our booth at the 2017 Today's Dietitian Spring Symposium! | |
The Seafood Nutrition Partnership aims to reduce the risks of heart disease, improve baby brain wellness and increase memory for seniors by educating Americans about the health benefits of sustainable seafood and building awareness of seafood's essential nutritional value.

Eating seafood regularly can save lives and significantly improve heart health. Find out more and sign the pledge to eat seafood twice each week. Your heart — and your loved ones — will thank you for it!
Given that only approximately 1 in 10 Americans follow the recommendation in the Dietary Guidelines to eat seafood at least twice a week, we have created an easy-to-follow guide for dietitians, developed by registered dietitians. Check out the Love Your Heart, Eat Your Seafood Toolkit and many other resources we have available for RDNs!



Did You Know?


Seafood is one of the leanest sources of protein and a super food packed with nutrients like Omega-32 which is essential for your good heart health?

Ready To Eat Seafood Twice A Week?


We are here to help you to add heart healthy seafood to your weekly meals. Try some of these quick, tasty, and affordable recipes this week. Your heart will thank you!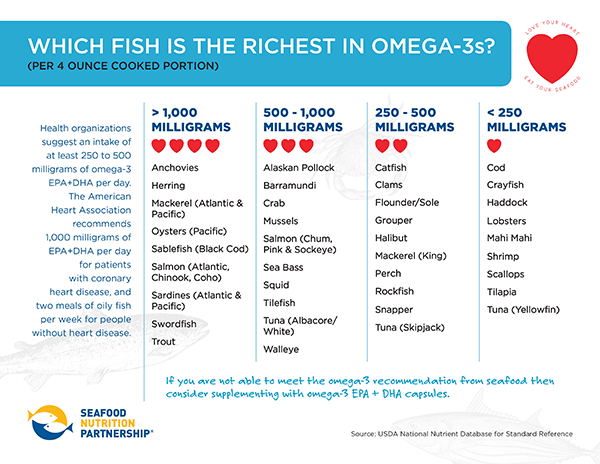 Health organizations suggest an intake of at least 250 to 500 milligrams of omega-3 EPA+DHA per day. Find out which seafood has the most omega-3s to get you and your clients closer to that goal. Please share this 1-page resource with your clients and colleagues.

Sources:
1. Mozaffarian D, Rimm EB. Fish intake, contaminants, and human health: evaluating the risks and the benefits. JAMA. 2006; 296:1885-99.
2. Danaei G, et al. The preventable causes of death in the United States: comparative risk assessment of dietary, lifestyle, and metabolic risk factors. PLoS Med. 2009.

© 2017 Seafood Nutrition Partnership