Subject: Materials for today's Food Truths webinar

View this email in a browser | Update your email preferences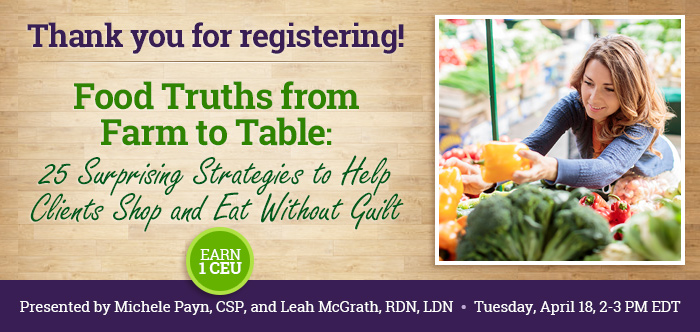 "Food Truths from Farm to Table: 25 Surprising Strategies to Help Clients Shop and Eat Without Guilt" will be presented Tuesday, April 18, 2017, from 2-3 PM EDT, by Michele Payn, CSP, and Leah McGrath, RDN, LDN.

To join the webinar, go to https://goto.webcasts.com/starthere.jsp?ei=1140497. Please download the pre-event materials prior to the program start for further instructions as well a copy of the presentation slideshow for note-taking purposes.

• Download the pre-event materials
• Download the presentation slideshow (note-taking version)
• Download the presentation slideshow
• Download the presentation references


If you are unable to attend, we will be posting a recorded version of the webinar as soon as possible on CE.TodaysDietitian.com to make all the great information presented and the continuing education credit available to all professionals. You will receive an email when the recorded version is available for purchase.

Call 877-925-2355 or email ce@gvpub.com if you have any questions regarding this webinar.