Subject: Materials for today's webinar on culinary techniques

View this email in a browser | Update your email preferences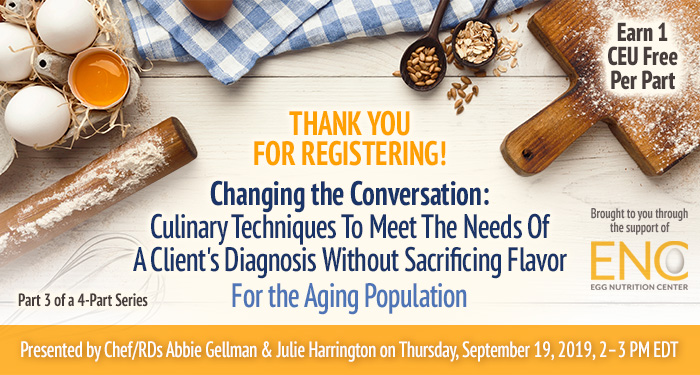 Join us on Thursday, September 19, 2019, from 2–3 PM EDT, in part three of this four-part webinar series hosted by Chefs Abbie Gellman, MS, RD, CDN, and Julie Harrington, RD.

Download the associated webinar materials by following the links below.
The Pre-event Materials contain important instructions on how to log into the webinar.
PLEASE DOWNLOAD AND REVIEW THEM COMPLETELY PRIOR TO THE WEBINAR'S START TIME.



Or paste this URL into your web browser:
https://goto.webcasts.com/starthere.jsp?ei=1256011

If you are unable to attend, we will post a recorded version of the webinar on CE.TodaysDietitian.com in approximately two weeks.
This complimentary 1-CEU webinar is brought to you with support from Egg Nutrition Center.