Subject: Mindfulness & meditation webinar on March 28

View this email in a browser | Update your email preferences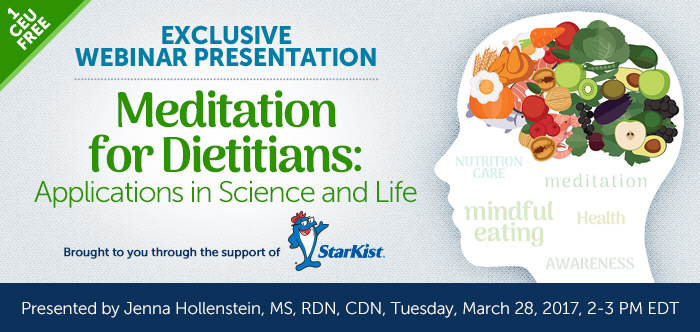 There can be no doubt that mindfulness is firmly planted in mainstream culture with applications in healthcare, parenting, business, and beyond. A central component of mindfulness is meditation. Meditation is an ancient practice that, in part due to the recent mindfulness movement, has now captured the attention of nutrition clients and practitioners alike. But what is it, exactly? And why should dietitians understand it, let alone consider bringing meditation into their own lives?

This webinar will review the current research on meditation in physical and psychological health. Meditation for dietitians will be discussed, with particular emphasis on the benefits for the dietitian personally, professionally in the delivery of nutrition care, and for our nutrition clients. A simple breath awareness meditation technique will be introduced and participants will practice a short meditation together.



Learning Objectives


After completing this continuing education course, nutrition professionals should be able to:
Provide a simple definition of meditation, including what it is and what it isn't
Describe the personal benefits of a meditation practice
Describe the professional benefits of a meditation practice for dietitians
Describe the benefits of meditation to nutrition therapy clients
1 CEU
Suggested CDR Learning Needs Codes: 4090, 5420, 6020
Performance Indicators: 8.3.6, 8.3.7, 9.4.2, 9.6.1
Level: 2
About Our Presenter


Jenna Hollenstein, MS, RDN, CDN, is a non-diet dietitian at her nutrition therapy practice, Eat to Love. She is a certified Intuitive Eating counselor and hosts a free monthly call to help Intuitive Eating community members fine-tune their IE practice. Jenna is also a meditation guide with the Open Heart Project, an online meditation community, where she co-teaches the Meditation Instructor Training Course, an online intensive program that teaches dietitians, therapists, coaches, and yoga instructors how to establish their own meditation practice and then to skillfully share the technique with their clients. She is the author of Understanding Dietary Supplements, a handy guide to the evaluation and use of vitamins, minerals, herbs, and botanicals for both consumers and clinicians, the memoir Drinking to Distraction, and the article "Five Mindfulness Lessons Every Coach Can Use."



About Our Sponsor


StarKist® makes it simple and delicious to eat more seafood. 21 varieties of convenient shelf stable tuna and salmon pouches makes StarKist® a smart choice for your clients. With 11+ grams of lean protein, they are the perfect choice for a quick lunch, after workout snack or to whip together a quick meal! Find delicious and simple recipe ideas that will fit all of your clients' needs at www.StarKist.com.
Disclosures


Jenna Hollenstein, MS, RDN, CDN, has no relevant disclosures to report. The presenter has certified that no conflict of interest exists for this program. View our disclosure policy.