Subject: National Seafood Month Is Here!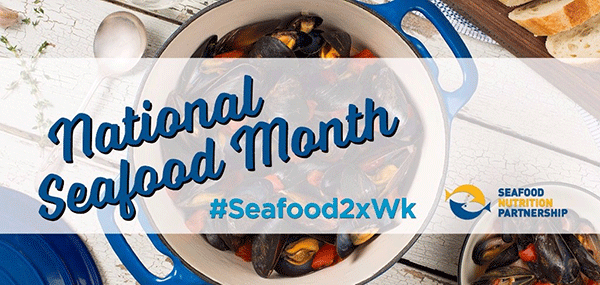 October is National Seafood Month! Join Seafood Nutrition Partnership's #SeafoodParty all month long for a celebration of all things seafood.

Did you know...
The 2015-2020 Dietary Guidelines for Americans recommends the general public to consume at least 8 ounces of seafood each week.
Despite the health and nutrition benefits gained by eating seafood, only 10% of Americans are following the recommendations.
Seafood Nutrition Partnership is addressing the country's public health crisis through education programs that inspire Americans to incorporate more seafood and omega-3s into their diets for improved health.

Eating seafood 2x per week leads to improved brain & eye development, contributes to an increase in your omega-3 levels, helps to reduce risks of heart disease, and benefits pregnant and nursing women and their babies.

There's no better time to try some amazing seafood recipes while learning how eating seafood twice a week is essential for a healthy heart. Get creative with celebrating — just start with seafood!

Three Ways to Include #seafood2xwk
Make a game plan and start your week by mapping out your schedule and meals for the week. Think about when you'll add seafood to the menu.
Stock up on canned and frozen seafood when it's on sale. Canned seafood is more reasonably prices and frozen seafood can be quickly defrosted and cooked. (Check out our Ultimate Seafood Buying Guide!)
Add tuna, salmon or shrimp to your salad or sandwich for lunch, or even try a new, delicious recipe for dinner. (More tips like this here.)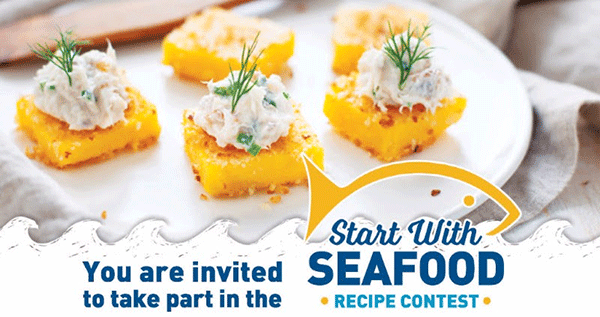 Contest Submissions Due by October 19, 2017
From tailgating to holiday parties, this is prime time to share appetizer recipes — and surprisingly, there are not that many creative ideas for seafood apps beyond shrimp cocktail. Tell us, how do you start your entertaining with seafood?

Win Amazing Prizes!
The grand prize winner receives $1,000 cash and two runners-up receive $500.

Click here for more information on how to enter and the official contest rules.



Stop by Our Seafood Shack at FNCE®, Booth #630
Come visit us at the Food & Nutrition Conference & Expo™, Oct. 21-24, where we will be cooking up some tasty and healthy seafood dishes. We will have guest RDs during lunchtime hours Sunday and Monday sharing their unique takes on educating people about seafood, including grocery RDs working at point-of-purchase, building collaborations from Partnership for a Healthier America, and the latest trends from Datassential. Plus, we have new resources to share this year. Can't wait to see all of you in person!

We're also partnering with GOED (the Global Organization for EPA and DHA omega-3s) to host a breakfast on Monday morning through the SCAN DPG, entitled "The Beat Goes On: Get the latest on omega-3 heart health research" for 1 CPE. Bill Harris, PhD of OmegaQuant, will be the featured speaker updating the latest science on omega-3s. Registration information is available at scandpg.org.
© 2017 Seafood Nutrition Partnership