Subject: New online course on baby-led weaning

View this email in a browser | Update your email preferences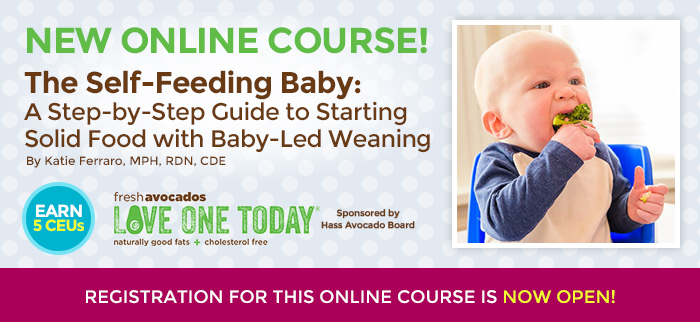 Thank you for attending the Today's Dietitian webinar "Baby-Led Weaning: A Step-by-Step Guide to Starting Solids Using a Safe, Practical, and Natural Alternative to Spoon-Feeding Purees" presented by Katie Ferraro, MPH, RDN, CDE. You can access a replay of the webinar by going to: https://ce.todaysdietitian.com/node/67970



Are you interested in additional CEUs and
learning opportunities about baby-led weaning?


Registration is now open for Katie Ferraro's online course "The Self-Feeding Baby: A Step-by-Step Guide to Starting Solid Food with Baby-Led Weaning," approved for 5 CEUs for RDNs.