Subject: Next Thursday's webinar on celiac disease & NCGS

View this email in a browser | Update your email preferences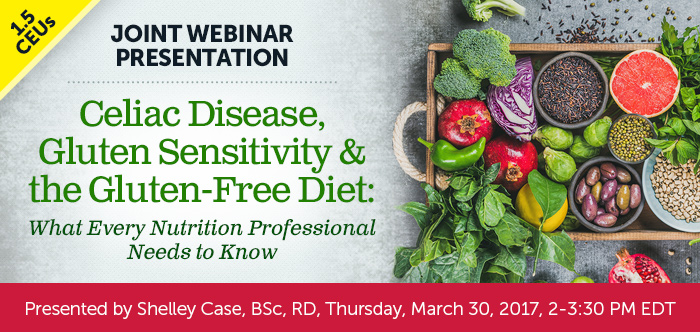 Celiac disease is an inherited autoimmune disorder affecting 1-2% of the population. An increased prevalence of celiac disease is seen in other associated disorders such as Type 1 diabetes, autoimmune thyroid and liver diseases, Sjogren's syndrome and Down syndrome.

Non-celiac gluten sensitivity (NCGS) is another condition thought to be triggered by the ingestion of gluten, although other components in wheat and FODMAP carbohydrates also have been implicated. Due to conflicting research, the lack of diagnostic biomarkers, and overlapping symptoms with celiac disease and IBS, the true prevalence of NCGS is unknown. In addition, it has been found that some individuals with NCGS actually may have undiagnosed celiac disease.

Nutrition professionals need to stay abreast with the latest research about these gluten related disorders in order to effectively manage this growing population. This session will provide evidence-based and practical information about celiac disease and NCGS, including clinical presentations, diagnosis, dietary management; North American gluten-free labeling regulations; nutritional quality and safety of gluten-free products; and client education resources.



Learning Objectives


After completing this continuing education course, nutrition professionals should be able to:
Identify symptoms and discuss diagnostic challenges in order to differentiate between celiac disease and non-celiac gluten sensitivity.
List associated conditions with a high risk for celiac disease.
Describe the gluten-free diet including grains/foods allowed and to avoid.
Explain the dietary management strategies for celiac disease and non-celiac gluten sensitivity.
Discuss the key components of gluten-free labeling regulations and their impact on client education.
List key resources and products for clients.
Price: $37.50


($29.99 with free BDA membership)


CEUs: 1.5
Suggested CDR Learning Needs Codes: 5000, 5110, 5120, 5220
Performance Indicators: 8.3.1, 8.3.6, 8.4.4, 10.1.3
Level: 2

Registration will take place on the Becky Dorner & Associates website.
Purchase the 16-credit Gluten Free: The Definitive Resource Guide CPE Self-Study Program
and receive the webinar for free. Just use promo code

GF BOGO

at checkout.
About Our Presenter


Shelley Case is a leading international nutrition expert on celiac disease and the gluten-free diet. A popular speaker and educator, her articles have appeared in many medical journals, magazines and other publications. Shelley has been featured on radio and television including NBC's Today show and frequently quoted in major print media. In recognition for her dedication to educating health professionals and individuals with celiac disease in North America, Shelley received the Queen Elizabeth Golden Jubilee Medal.
Disclosures


Shelley Case reports the following relevant disclosures: she serves on the Professional Advisory Council: Canadian Celiac Association; Medical Advisory Board: Celiac Disease Foundation, Gluten Intolerance Group; Scientific Advisory Board: Grain Foods Foundation; Ask the Celiac Expert Columnist: Allergic Living Magazine; Publisher and Author of Gluten Free: The Definitive Resource Guide. She has certified that no conflict of interest exists for this program. View our disclosure policy.