Subject: Oct. 16 webinar on email marketing for RDs

View this email in a browser | Update your information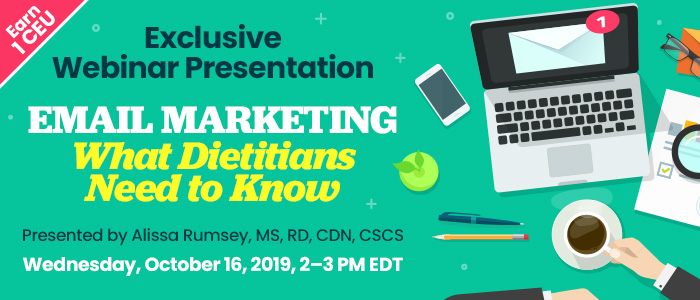 Every business needs an electronic mailing list. Whether you're selling one-on-one consultations, online programs, books, or products, you need people — they are pivotal to growing your business. And nothing connects businesses with people more successfully than email.

Savvy marketers know that email marketing is more effective than social media. It cultivates an engaged audience; sells your products and services; and creates excitement around your next project. Email converts to sales better than Facebook, Instagram, and a multitude of other mediums. And it works because when someone gives you their email address it shows they are committed to learning more about you, your offerings, and your business.

In this interactive webinar hosted by Alissa Rumsey, MS, RD, CDN, CSCS, on Wednesday, October 16, 2019, from 2–3 PM EDT, learn how to get started with email marketing. Alissa will teach you how to build your list and use it to successfully grow your client base. She will help you create an irresistible lead magnet to quickly build an audience, and help you realize the benefit of having a sales page. Finally, Alissa will highlight case studies to show how dietitians like you successfully used email marketing campaigns to increase their income.



Learning Objectives



| | |
| --- | --- |
| 1. | Describe how email marketing can grow your business. |
| 2. | Detail email marketing best practices, including client attraction, calls-to-action, and nurture marketing. |
| 3. | Identify at least three ways to get more people to subscribe to your list. |
| 4. | Create two irresistible lead magnets for your audience. |
Price: $19.99
1 CEU
Suggested CDR Learning Needs Codes: 1020, 7070, 7120
Performance Indicators: 3.2.3, 9.4.7, 11.4.1, 13.3.5
Level: 2
About Our Presenter


Alissa Rumsey MS, RD, CDN, CSCS, is a nationally-recognized and award-winning registered dietitian nutritionist and the founder of Alissa Rumsey Nutrition and Wellness. Alissa specializes in intuitive eating, body acceptance, and disordered eating recovery. Alissa's expertise is regularly featured on television, online, and in print. She is a monthly contributor to US News and World Report and has appeared in over 100 media outlets including NBC Nightly News, CNN, CBS News, ABC News, Prevention, Health Magazine, SELF and Women's Health. In 2017, she received the Media Excellence award from the New York State Academy of Nutrition and Dietetics.

Alissa is passionate about empowering dietitian entrepreneurs to confidently start, grow, and scale their businesses. She has spoken at professional meetings and events around the country including the Academy of Nutrition and Dietetics Food & Nutrition Conference & Expo (FNCE®), the Today's Dietitian Symposium, the Texas Academy of Nutrition and Dietetics Annual Conference and Expo, the California Academy of Nutrition and Dietetics Annual Conference and Expo, the Florida Food and Nutrition Symposium, and more. In 2017 she launched the Dietitian Entrepreneur Mastermind Retreat, a weekend workshop that brings together dietitians from around the country to connect, collaborate, and work on their businesses.

Alissa earned dual Bachelor of Science degrees in Dietetics and Exercise Science from the University of Delaware and a Master's of Science degree in Health Communications from Boston University.



Disclosures


Alissa Rumsey, MS, RD, CDN, CSCS, has no disclosures to report and certifies that no conflict of interest exists for this program. View our disclosure policy.