Subject: Olive your Heart!
Trouble viewing this email? Click here.
Thank you for your continued support of Today's Dietitian. Below is information from one of our sponsors.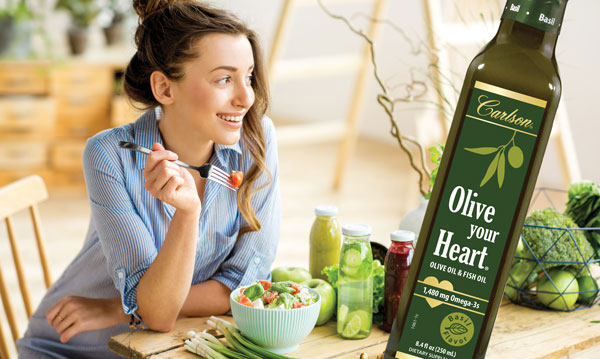 Carlson Olive Your Heart®
Extra virgin olive oil + omega-3s
•

Promotes cardiovascular system health*


•

Premium Greek extra virgin olive oil


•

Sustainably-sourced Norwegian marine oil


•

1,480 mg of omega-3s per serving

Introducing Olive Your Heart®, the newest member of the Carlson product line. Olive Your Heart® is a unique, heart-healthy supplement that blends the health benefits of olive oil (a staple of Mediterranean cuisine) with marine-based omega-3s (an important part of the Scandinavian diet). It's as good for you as it is great tasting.

Olive Your Heart® begins with a base of cold-pressed, extra virgin Greek olive oil from the Kolymvari region of Western Crete, where olive oil production dates back to 4,000 BC — and where olive trees are passed down from generation to generation.

The premium olive oil is paired with sustainable, high-quality fish oil sourced from wild-caught cod, pollack, and haddock off the coast of Norway. The vikings fished in this region almost 1,000 years ago, and the production of fresh, pure fish oil dates back more than 150 years. Olive Your Heart® is bottled at Carlson Healthy Oils, our new, modern bottling facility in Søvik, Norway.

Olive Your Heart® is deeply rooted in quality, tradition, and family. And the name is more than just a clever way to communicate its ingredients and benefits. It's a nod to the beginning of the Carlson brand more than 50 years ago, when pharmacist Susan Carlson created the very first Carlson supplement for her father, who suffered from heart disease.

And today, the very same care and commitment to quality that Susan put into the first Carlson product goes into every product we make. As Susan's husband John used to say, "If you're going to put your name on the bottle, it had better be excellent."








888-234-5656 | www.oliveyourheart.com




*These statements have not been evaluated by the FDA. This product is not intended to diagnose, treat, cure, or prevent any disease.