Subject: Perfect Sweetness for Body & Mind: Organic Stevia
View this email in a browser
Thank you for your continued support of Today's Dietitian. Below is information from one of our sponsors: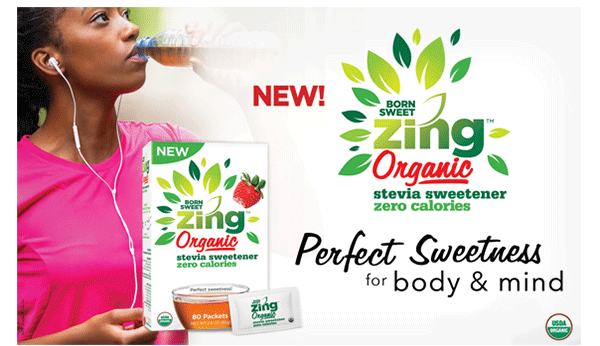 Born Sweet Zing™Organic Stevia Sweetener has the sweetness found in Mother Nature's stevia plant, and is grown in accordance with USDA organic practices. It has zero calories and a delicious, clean sweet taste, making it perfect for those pursuing health and wellness goals. Give patients and clients the option of a great tasting, zero calorie organic stevia sweetener with less than 1 gram carbohydrate per 1 packet or 1/4 tsp. serving.

| | |
| --- | --- |
| | Born Sweet Zing™Organic Stevia Sweetener is giving healthcare professionals an exclusive offer for FREE product samples to share in your office. Sign up today and help clients or patients make the smart sweetener choice. Sample pack includes a $1.00 coupon and 5 Born Sweet Zing™ Organic Stevia Sweetener zero calorie packets. |

There are many options when creating foods with a zero calorie stevia sweetener, such as in these salad dressings. Share recipes with clients that are creative, delicious and easy to whip up for mindful meals.

| | |
| --- | --- |
| | Born Sweet Zing™Organic Stevia Sweetener contains less than 1 g carbohydrate per 1 packet or 1/4 tsp. serving. Available in both 40-count and 80-count cartons. |
© 2017 Domino Foods, Inc. All rights reserved
American Sugar Holdings, Inc.
One North Clematis Street, Suite 200
West Palm Beach, FL 33401