Subject: Plant-Powered-Palooza Special
View this email in a browser | Update your information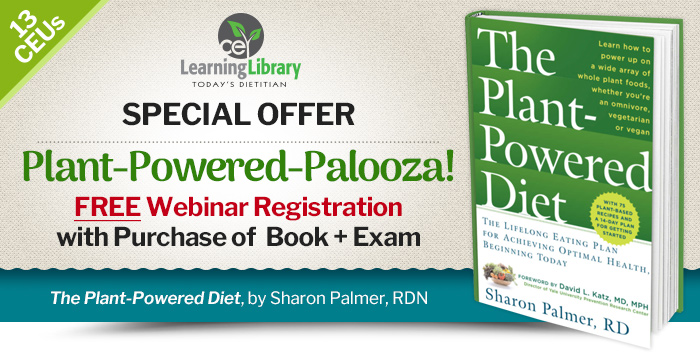 Between now and Thursday at noon, buy Sharon Palmer's book, The Plant-Powered Diet, PLUS the 12 CEU examination, and you'll get FREE registration for Thursday's 2 PM webinar, "Measuring the Impact of Food Miles on Sustainability".

The Plant-Powered Diet defines what a plant-based diet really is, and discuss the diets of vegans vs. vegetarians and plant-based omnivores. In this CPE activity, Palmer also draws stark comparisons to the typical Western diet, with its high levels of meats, saturated fats, sodium, low amounts of plant foods, and links to increased risk of chronic disease. The CPE activity also explores the rising consumer interest in plant-based eating and highlights the increasingly popular Mediterranean Diet as a prime example. Food preferences, culinary techniques and plant-based meal planning are also discussed, as are nutrients of concern like calcium, vitamin D, vitamin B12, iron, zinc, and iodine. The online examination is broken into 12 quizzes (one quiz per every book chapter). Once you've completed your purchase you can access these quizzes at your convenience. They do not all need to be completed in one sitting.

Thursday's webinar explores the science and data on how far food is traveling today to get to the plate. In doing so, she will explain how food travel affects consumers' carbon footprint and sustainability of the food system. RDs will be provided with surprising revelations about the food system, together with bottom line advice to give to patients and clients who express interest in making a difference with their forks.


Click here to make your purchase and we'll send you confirmation that you're registered for Thursday's webinar on sustainability.