Subject: Register for tomorrow's webinar on ethics

View this email in a browser | Update your email preferences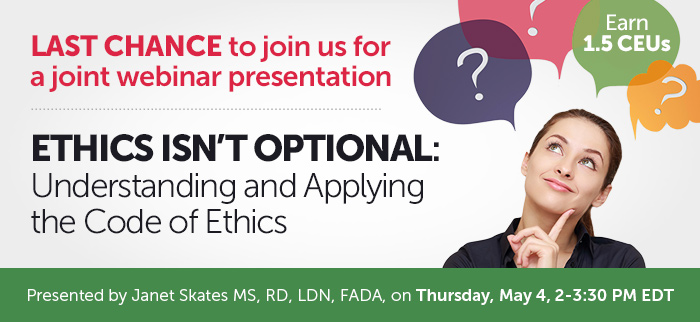 Are you encountering ethical dilemmas on the job? In your volunteer work? Dietitians in all areas of practice face difficult situations every day. But unlike some people we observe or interact with, we are bound to honor our professional code of ethics. There may even be times when we are unaware that an action is ethically questionable. This practical educational program will provide an introduction to our professional code of ethics along with valuable resources to help interpret and apply our ethical principles. Together we will explore some ethical landmines in dietetics practice such as issues with non-conventional therapies, electronic health records, privacy, end-of-life care, licensure, and social media.



Learning Objectives


After successfully completing the program, participants will be able to:
Explain why ethics matter in providing quality nutrition care.
Differentiate between ethical, legal, business, and personal issues.
Utilize ethical principles as guidelines for decision making in practice.
Identify and use a systematic process to address ethically challenging situations that practitioners may face.
CEUs: 1.5
Price: $37.50


(Or $29.99 with free BDA membership)



Suggested CDR Learning Needs Codes: 1020, 1050, 1090, 7110
Performance Indicators: 1.1.1, 1.1.4, 1.1.6, 1.5.3
Level: 2
Registration will take place on the Becky Dorner & Associates website.
Purchase the End of Life Nutrition & Hydration Manual + Recording
and receive this webinar for FREE—19 credits total!
About Our Presenter


Janet Skates MS, RD, LDN, FADA, is a Registered Dietitian and nutrition consultant with over 35 years of experience as an advanced level nutrition support clinician, department director, and consultant. Throughout her career, she has focused on promoting and improving quality nutrition practice in a variety of settings. Currently the owner of Nutrition Consulting Services, she provides services primarily to business and industry. Long active in the Academy of Nutrition and Dietetics, she is a past chair of the Academy's Ethics Committee. She has presented nationally on ethics and other topics and has been published in peer-reviewed dietetics and nursing journals.
Disclosures


Janet Skates MS, RD, LDN, FADA, has no relevant disclosures to report. She has certified that no conflict of interest exists for this program. View our disclosure policy.