Subject: Snack anytime with #OnTheGoUmami
View this email in a browser
Thank you for your continued support of Today's Dietitian. Below is information from one of our sponsors: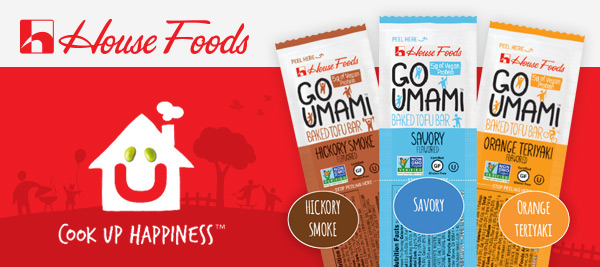 Thank you for trying House Foods Go Umami Baked Tofu Bars at Today's Dietitian Spring Symposium!


House Foods Go Umami, America's first grab 'n go Tofu snack, is a baked and ready-to-eat tofu bar served in individual, easy-to-peel packages. Each bar of Go Umami is packed with 5g of plant-based protein. This on-the-go snack now makes it easier than ever to incorporate tofu into your program. Available in three flavors: Hickory Smoke, Savory, and Orange Teriyaki. To request product info, contact marketing@house-foods.com.

All of House Foods Tofu is made from 100% US grown, Non-GMO soybeans, gluten-free & Kosher certified. Click here for Dietitian's Guide to Tofu!


Copyright © 2017 House Foods America Corporation